When you look at the Real Madrid squad one often think of superstar players and of course Cristiano Ronaldo. But one player who has gone about his job under the radar is Keylor Navas. Navas has seen a lot of transfer speculation regarding him during last few transfer windows. He was close to joining Manchester United once with David De Gea moving the other way but somehow the deal fell through and Navas stayed at Madrid.
Many say that he is not good enough to wear the Real Madrid jersey but he has been proving his doubters wrong for quite some time now. One doesn't have to look too far to see when he made some outstanding saves. In the recent derby, Navas made a brilliant point-blank save from Koke's shot. If that would have gone in, Atletico Madrid would have taken the lead and probably would have gone on to win the game at the Bernabeu. Even against Juventus in the first leg of the quarters, he made some good saves.
According to recent reports Keylor Navas has expressed his desire to stay at Real Madrid until his contract runs out. He was being linked with quite a few Premier League giants like Arsenal and Manchester United. It was expected that Real Madrid will go for the likes of David De Gea or Thibaut Courtois in the summer but the desire shown by Navas and on the back of his recent form and performances, he surely deserves to play for the Galacticos till the end of his contract.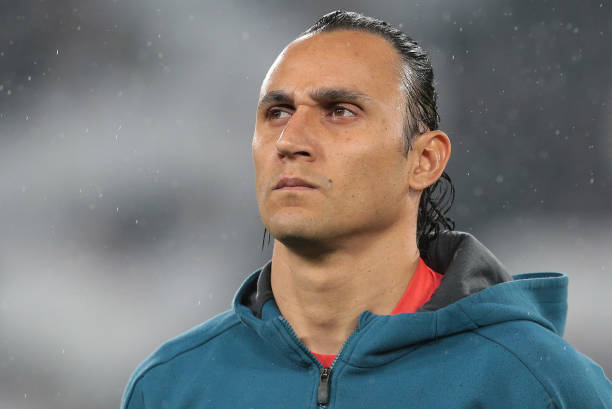 The Costa Rican stopper is just 31 which is considered as a ripe age for the goalkeepers. His contract will run out in 2020, but the Madrid board has always been keen on selling him. Playing for a superstar club like Real Madrid, Navas has always been under the radar and his performances haven't been appreciated enough. But even after all that, he is adamant about staying at Madrid.
One of the few drawbacks of his game is his distribution and sometimes he isn't able to launch quick counter attacks which Real Madrid are known for. Apart from that, he is brilliant as his ball handling is top notch.
Read More: Real Madrid Prepare Audacious Bid For PL Winger's Signature: Can They Land Him In Summer?
Surely De Gea will be an upgrade over him but Real Madrid will have to pay a huge sum to acquire his services and with such an able goalkeeper already at their disposal it will be harsh on Navas to let him go when he is at his peak.