Sunderland are apparently one of the Championship sides which are seemingly likely to get doomed at the end of the season. They are currently placed at the bottommost position in the league standings, having collected merely 28 points from 38 fixtures and are as many as 8 points behind the rendezvous zone. Their survival in the English second division next season is looking highly unlikely.
Chris Coleman must be a tensed manager at this stroke of the hour and there is no denying that he must have already started to vouch for talents in the lower divisions to beef up his arsenal in the summer. Irrespective of whether Coleman manages to keep his side safe or not, he would definitely need to make some shrewd moves after the end of the ongoing campaign.
As per one of the latest reports by Shropshire Star, the Black Cats are perceived to be interested to lure Shrewsbury Town's defender, Toto Nsiala, to the Stadium of Light in the summer. The Blues have chiselled a sensational rise to the top of the League One table and Nsiala has been one of the most influential and productive members in the ranks of Paul Hurst's side.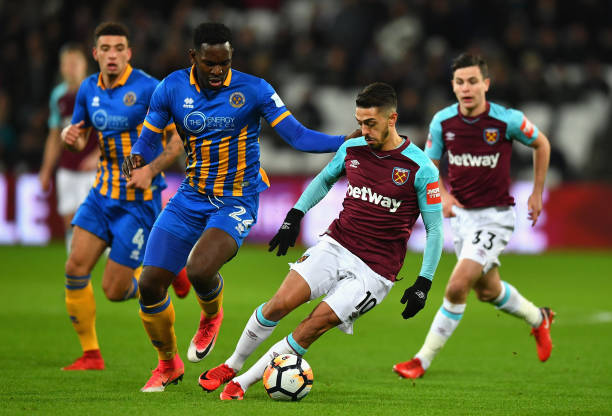 The report also states that the Sunderland manager was at Montgomery Waters Meadow on Saturday to watch Shrewsbury Town's 1-0 win over AFC Wimbledon, where Nsiala played the entire game. Nsiala has proven himself to be a solid centre-back this season as he has been quite resilient at the back. The 26-year-old stopper has a commanding physical presence and his boots offer raw pace as well.
Nsiala makes perfect use of his height while he is in the air, makes shrewd tackles and interceptions and reads the attacking endeavours of the opposition meticulously. He certainly has provided a great presence at the heart of Shrewsbury Town's back line this season and owing to the calibre that he possesses, it isn't surprising to see him getting acknowledged for what he has done of late.
He is a popular figure amongst his club's supporters and has earned full confidence of his manager, having racked up 48 appearances across all competitions so far this campaign. The Congolese's contract with the League One outfit is set to expire at the end of the upcoming season and it would make a lot of sense if Coleman attempts to make him sign on the dotted line in the summer.