Manchester United have one of the strongest squads in England at the moment but the fact that they were not in the title race and have also fallen out of the Champions League already shows that Jose Mourinho has a lot of work left to do at Old Trafford.
The Red Devils spent insane money in the summer transfer window at the start of the season but Mourinho is evidently unhappy with the options at his disposal and is expected to be active in the transfer market at the end of the season. He has constantly been linked with some exciting names from Europe and the latest name doing the rounds is Real Madrid star Toni Kroos.
A product of the Bayern Munich academy, Kroos won three Bundesliga titles and a Champions League title with the  German giants, before being snapped up by La Liga outfit Real Madrid back in 2014. In less than four years at the club, he has a La Liga title and two UCL titles and stands as one of the most decorated midfielders in Europe at the moment.
A central midfielder with exceptional technique, vision and an appetite to win rivalled by very few, the 28-year old is an expert on a dead ball and is an effective player in the final third. He can bulldoze past opponents even from tough situations but is more adept at sitting in the midfield and pinging passes to all ends of the field.
His concentration levels and ability to produce match-winning performances consistently makes him one of the best in the business at the moment. He has 205 appearances for Bayern and 179 appearances for Real Madrid in all competitions in his career to add to 81 international appearances and is the first choice midfielder for club and country at the moment.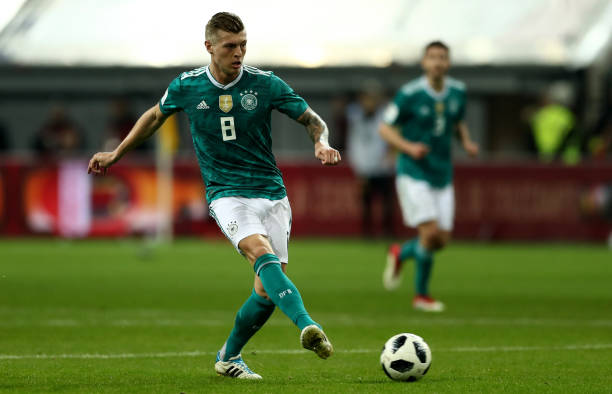 However, reports from Spain now claim that the squad overhaul that Florentino Perez and Zinedine Zidane are planning at Bernabeu might push Kroos out this summer.
The German midfielder, who is in his prime, will want to play every minute of the season and reports suggest that the proposed changes at Real Madrid have unsettled him at the moment. It is understood that Jose Mourinho is ready to take advantage of this situation and wants to lure him to Old Trafford and that Real have placed a price tag of around €60m for his services.
The Red Devils have Nemanja Matic as the first choice in this role along with Ander Herrera and Marouane Fellaini, to partner Paul Pogba in the midfield. The latter names might both quit the club this summer, making Kroos a necessity for Mourinho.
He adds a different dimension to the United side and lends balance to their midfield but is the right man for Manchester United?