Manchester United are expected to be a busy club in the summer transfer window but Jose Mourinho is already taking steps to ensure that he has a solid squad at his disposal for the upcoming campaign. While a number of star players have regularly been linked with a move to Old Trafford at the end of the season, United are also keeping an eye on extending deals of first-team stars this season.
One such player, who will stay at the club for another year is versatile winger Ashley Young.
Predominantly playing as the first choice left-back for Jose Mourinho this season, Young showed his class and experience in one of the biggest games of the season for United, against Liverpool, where he managed to keep an in-form Salah away from danger for most of the game.
He has been at the club since 2011 and has already made 143 league appearances for the Red Devils, winning each of the domestic competitions at least once. He made only 12 league appearances last season and was expected to be sold in the summer but has now turned into such an important part of the squad that Mourinho wants him in his side for yet another season.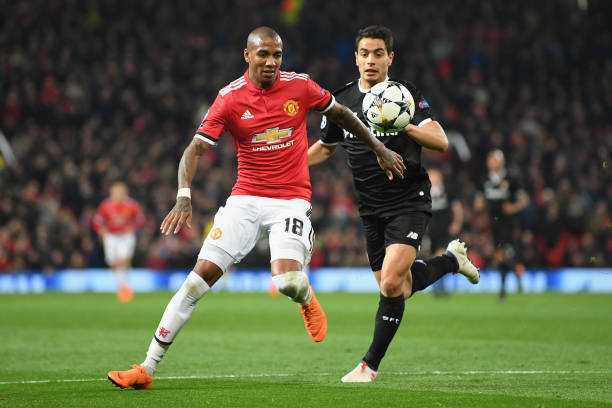 His initial contract was supposed to come to an end in a couple of months but Manchester United have now triggered a clause in his contract that will extend it for another year. At 32, he has also earned a national team call-up from Gareth Southgate and his career is far from finished.
He was brought to Old Trafford by Sir Alex Ferguson and is the epitome of the attitude Manchester United fans need from their players. Even at his age, he is ready to run himself into the ground for his side and rarely puts in a lethargic performance. He is solid at the back and has been United's best choice on the left-wing and add to it his two goals and three assists this season shows that he still has it in him to compete with the best.
He has 320 PL appearances to date and is one of the most experienced players in the current United lineup. He is also one of the longest-serving players at the club so it is not a surprise that Mourinho decided to extend his stay at the club.
The Red Devils will want to spend on a natural left-back for the next season but having Young in the squad will allow the new signing enough time to settle in and have an impact on the side. He has shown that he can perform in the top flight for another season and his new deal is a huge coup for the Red Devils.