Out of the title race and the FA Cup, Liverpool have a very feeble shot at the Champions League this season and might go yet another campaign without any silverware to show for. But it is hard to argue the fact that they are in the best position as a club than they have been for almost a decade now.
Jurgen Klopp is truly building a formidable unit at Anfield but needs a few more additions to complete the job he was hired for. However, he will also have to work hard to keep star players at the club this summer as a number of top clubs in Europe are already being linked with a move for the brightest stars at the club.
The likes of Roberto Firmino and Emre Can are constantly linked with an exit but one player that might attract loads of interests from around the footballing world is Egyptian winger Mohamed Salah.
Enjoying a record-breaking season at the moment, Salah needs just four goals in the last seven league games to break the goalscoring records for the Premier League and is well on his way to competing with the likes of Lionel Messi for the European Golden Boot. He is easily one of the most talented stars in England at the moment and could also win the POTY award in England this season.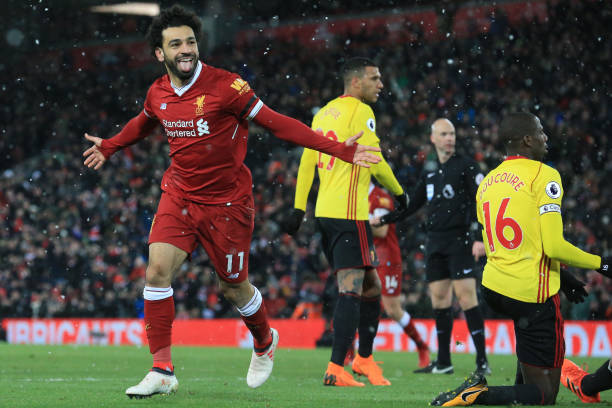 He has 36 goals and 12 assists in 41 games in all competitions and has outperformed even the best of the players in the game this season. So it does not come as a surprise that the biggest clubs in Europe are looking to snap him up at the end of the season.
His current market value has increased more than two-fold but reports claim that the likes of Barcelona and Real Madrid are already plotting a move for his services in the summer. Barcelona have a settled squad and might not find too much use in Salah but Real Madrid, who want the Egyptian to replace Gareth Bale, might present a mouth-watering bid for Salah this summer. Can Liverpool even contemplate selling him?
At just 25, Salah is a potential superstar and if he can continue his form this season, will turn into one of the best players to have played for not only Liverpool but also in the Premier League. He has certainly exceeded the expectations but Klopp has something special brewing at Anfield and Salah will not want to leave it anytime soon.
He is surely right up there with the best and will walk into most squads in Europe but at Anfield, he is the most important player for the Reds and it is best for all involved that he spends at least a couple of years under Klopp, tarnishing his reputation before setting off on another adventure.
He has not completed a year at Liverpool yet and the Reds will be ready to kick back any offers they get for their Egyptian King!
The following two tabs change content below.
Aakarsh Bommakanti
Was diving around lush green grass not so long ago but my keyboard is all I have now. An avid observer of detail in sports with a passion to make myself heard. Can find me playing on a field if not in front of my screen.
Latest posts by Aakarsh Bommakanti (see all)