The context and the player:
Anthony Knockaert was on top of the world last season due to his highly instrumental role in Brighton & Hove Albion's promotion to the Premier League. He notched up 15 goals and also got nine assists in 45 appearances last season. This led him to be named The Championship player of the season.
This season, however, has not been quite as brilliant for Knockaert compared to last. In 31 appearances this season in all competitions he has only scored three goals and got two assists. So where has it gone wrong for the winger? 
Knockaert looks a shadow of last season and is just angry:
Firstly, Knockaert has struggled to adapt to the Premier League. This is because he has not been able to take on fullbacks with as much ease as he did last season, due to them having sussed him out. This has meant the Frenchmen has looked a shadow of the player he was last season with him getting far more frustrated than he did last season and at times looking like he cannot be asked.
This frustration has been clear to see with him picking up four bookings. This frustration boiled over last week when Knockaert was sent off a knee-high lunge at Leighton Baines. It looked as if the winger saw red after Baines cross before the challenge hit Knockaert flush in the face. However, this is no excuse for his challenge, it was a horrific tackle going lunging in two-footed at the Everton full-back's knee. Luckily, Baines moved his foot out the way otherwise Knockaert could have given him knee ligament damage at best or at worst a broken leg.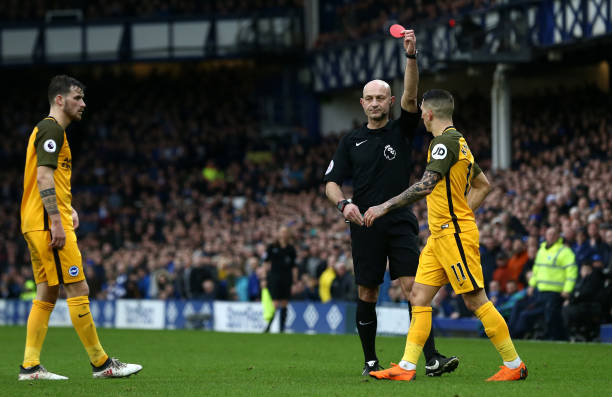 The most interesting thing was when Knockaert strolled off with his head down as he walked past manager Chris Hughton who was shaking his head and did not look impressed with the Frenchmen at all.
The Frenchmen has been in and out of the squad:
The 26-year-old winger has not been a regular starter for Brighton and has been rotated with Solly March a lot this season. Add to this March's impressive performances and the addition of Jose Izquierdo over the summer and how impressive he has been, Knockaert's starting place is no longer guaranteed like it was last season.
This may be why he is getting frustrated as he is not performing as well as he'd like when he has the chance to show Hughton why he should be in the starting lineup. Knockaert has shown glimpses of his prowess from last season in the home games against Everton, Swansea and West Ham United. Apart from this he has not looked anywhere near good enough to be starting regularly. 
The big effect of the suspension:
Knockaert's red card means that he cannot play for five weeks as he missed the FA Cup quarter-final against Manchester United this weekend gone. He will also miss the home games to both Leicester City and Huddersfield Town, which will be key games to Brighton's Premier League survival this season. 
One thing is for sure, hopefully, Knockaert will learn from this and come back into the squad and show Hughton and the fans the same player who terrorised fullbacks last season.