In what has been the most talked about story for Arsene fans since their loss to Manchester City in the League Cup, the Gunners are now linked with a move for former Liverpool manager Brendan Rodgers, as a possible option to replace Arsene Wenger at the end of the season.
It is evident from the way the club has already replaced most of the officials around Wenger in recent times that it is quite possible that the Frenchman is in his final few months at the club, where has served for over 20 years.
Arsenal still have a serious squad, capable of fighting for silverware but it looks more and more necessary for them to make a change at the top, to try and establish themselves as European giants in the near future. There are not many names that can take over Wenger's legacy at the club but is Rodgers one of them?
Currently enjoying a successful time in the Scottish top tier with Glasgow giants Celtic, the Irishman is on course to win his second league title in two years and is making history in Scotland. He can excruciatingly close to lifting the Premier League in his time at Anfield not so long ago and will jump at a chance to move back to England.
He gave the Red of Merseyside one of the most exciting moments in this decade and though was sacked before he lifted any silverware, is still fondly remembered by the Liverpool fans.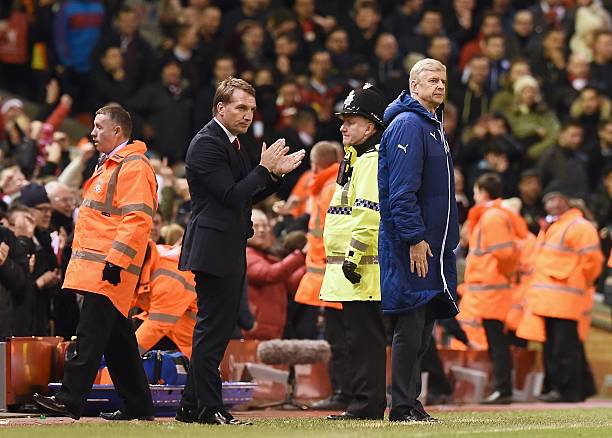 His transfer decisions were at times a bit baffling but he is a confident coach, who has the ability to get the best out of his players, something Arsenal are currently missing in their squad.
The Gunners have a number of match-winners in their squad, playing week in week out but are not able to find any consistency in their game. They are now a team without an identity and it is imperative that they need a managerial change pretty soon.
The likes of Luis Enrique and Carlo Ancelotti have already been linked with Wenger's job but at the moment, the club needs to build from scratch and Rodgers is one of the best options for this at the Emirates.
The likes of Enrique and Ancelotti will work wonders with a ready-made squad but the former Liverpool and Swansea manager will definitely help them take one step at a time, back to the top of the table.
He brought Swansea to the top tier, won the treble with Celtic and has already worked in London, with Chelsea as a youth coach. He may not be able to lure top class talents to the club in the near future, which will be a problem but his style of play fits in well with what Wenger has been preaching in North London for a while now, making him a decent fit.
But is the right man for Arsenal?
Latest posts by Aakarsh Bommakanti
(see all)