A certain winger has made quite an impact at Brighton and Hove Albion since joining for a then club-record transfer fee in the summer. Of course, I'm talking about Jose Izquierdo. The Colombian joined for what was then a club-record fee of £13 million from Club Brugge. He has certainly established himself since then.
The 25-year-old has already got three goals to his name as well as three assists. The first of his goals came in Brighton's first away win over West Ham United in a 3-0 victory. The second came at The Amex against Stoke City when The Seagulls were 2-1 down he came up with an equaliser. The third came last weekend and helped Albion to their first win in 2018 in a 3-1 win over West Ham at The Amex. It was a goal of the season candidate, he picked up the ball from the edge of the penalty area and curled and effort into the top right corner and got the whole stadium on its feet. 
Since joining, Izquierdo has managed to galvanise Albion's attack. He has added raw pace meaning once club-record signing Jurgen Locadia is fit they would possess great counter-attacking wingers and a striker. A great example of the raw pace Izquierdo was particularly highlighted in the 2-2 draw at home to AFC Bournemouth. He made a great counter-attacking run of 85 yards starting just outside his own box and ending with firing his shot straight at Asmir Begovic, but he got a good deal of the crowd to their feet who recognised how good a run it was despite not scoring. 
He also is so unpredictable for full-backs. As he is not a winger who just keeps running down the wing he loves to cut inside onto his right foot and unleash a shot. A prime example of this was his first goal for Brighton when they were away to West Ham. He picked up the ball and ran at Pablo Zabaleta before cutting inside and unleashing a powerful curler shot which Joe Hart got a hand to but could not stop from ending up in the top right corner.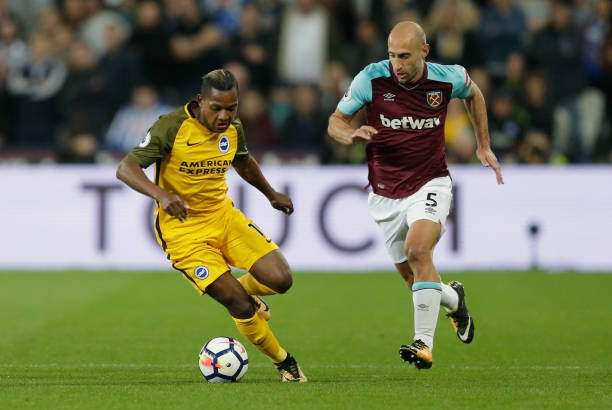 As well as being able to cut inside he does often come in off the wing and pick up the ball more centrally and driving at the opposition before trying to make a quick one-two outside the box which makes it difficult for any full-back to keep an eye on him. He has done this on numerous occasions which means he not just hugging the wing and relying on getting the ball. 
One of his strongest suits is his eye for goal and his shooting on the whole. He loves to let fly of a shot no matter the distance and this has worked for him a couple of times. The two that come straight to many Albion's fans is last weekends strike because the more you look at it, the more you appreciate how incredible an effort it is and how confident in your ability you have to be to score that type of goal. 
One thing is for sure, if the Colombian continues to put in performances like the ones against Bournemouth and West Ham, he should be able to create enough chances and score enough goals to keep them up.
The following two tabs change content below.
Adam Stenning
Adam is the Brighton Correspondent here at The 4th Official. He is a 21-year old Sports Journalism graduate. He is not only passionate about football but also has a keen interest in cricket, tennis and Formula 1.
Latest posts by Adam Stenning (see all)