Having managed to get to within six points of Celtic at the top of the Scottish league table, Rangers will now look to push the Glasgow giants to the domestic title but Graeme Murty, the current manager at the club, is convinced that his side need a few additions to compete with the best in the near future.
They will want to end the season on a high and stand in a position to attract some star players at the end of the season but it is also important for the club to secure the long-term futures of players in the first team at Ibrox Stadium. One such player, who has now revealed that he might extend his stay in Glasgow is shot-stopper Wes Foderingham.
Speaking to the media recently, he revealed that the club look at his situation every summer to assess his future and this summer will be the same. Foderingham only signed a new deal last summer, that will keep him at Rangers till 2020 but he revealed that talks are scheduled between his representatives and the club, over an extension beyond 2020.
Appearing in a video shared on the club's YouTube channel, Foderingham said "I signed an extension in the summer and I think it's an agreement between myself and the club where we look at it where we are at the end of each season so I think that'll be talked about at the end of the season."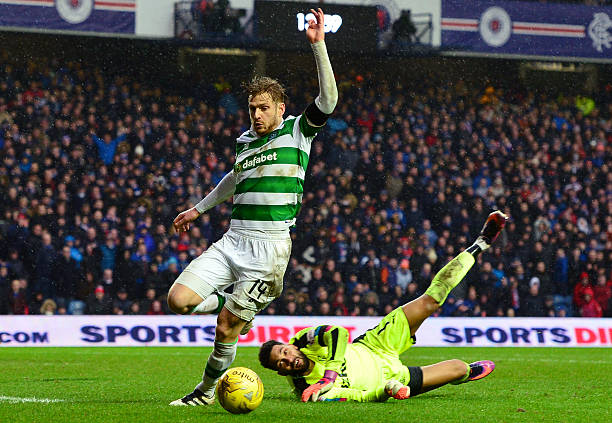 So is extending his contract the right decision by Rangers?
Having joined the club back in 2015 after playing for six different English clubs, the 27-year old took no time to establish himself at Ibrox and turned into an important part of the squad in his first year at the club.
He made 36 and 37 appearances in the Scottish top flight in the last couple of seasons and has nine clean sheets in 29 starts this season. He is no longer an option for the English national side but is surely one of the most consistent players in the SPL for over a year now.
He has seen away competition from the likes of Matt Gilks, Cammy Bell and Jak Alnwick, all of who failed to cement a place in the first team over Foderingham in the last couple of years.
At just 27, he is a superb option for the long term and Rangers will find it tough to replace him, when they decide to let him go but at the moment, there is no reason for them to look elsewhere and should get the English custodian to sign a new deal as soon as possible.