Premier League giants Manchester United and Arsenal are ready to battle it out for the signature of Fred.
The Shakhtar Donetsk attacking midfielder has attracted a lot of transfer interest from top European clubs, after the club admitted that they are prepared to consider offers for the Brazilian sensation.
According to reports, a total of eight to ten top European heavyweights are meanwhile seeking the signature of Fred including clubs like Manchester City, Atletico Madrid, Roma and Napoli.
However, as StarSports understands, Manchester United and Arsenal are apparently leading the race for the 24-year-old attacking midfielder.
Fred has been an important part of the Shakhtar midfield, ever since his big-money move to the Ukrainian outfit in 2013. The Brazilian quickly became a vital cog for Shakhtar, featuring in almost 150 games for the Ukrainian footballing giants.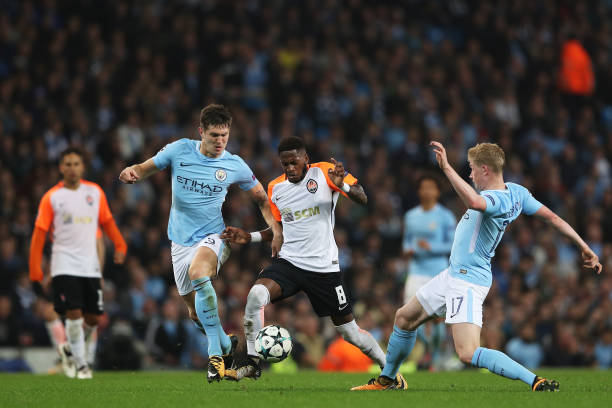 This season, however, Fred has been performing at a whole new level, which has attracted interest from all over Europe. His current contract with the club expires in 2021 but that hasn't deterred interest from top European clubs.
Manchester United could be an ideal destination for Fred, who will want to make a bigger impact at a bigger league.
Despite having significant firepower up front, the Red Devils have often been bogged down this season, due to their lack of creativity. The main playmaker Henrikh Mkhitaryan, ironically also an ex-Shakhtar player, has completely failed to live up to the billing after a promising start to the campaign. The Armenian has played just over 150 minutes of football for the past couple months, meaning a move elsewhere could be on the horizon for the former Dortmund midfielder.
Fred, who was brought in from Internacional to replace Dortmund-bound Mkhitaryan at the start of the 2013-14 season, could once again prove to be an ideal replacement for the Armenian at Old Trafford.
Although he might lack the dynamism and flair the Armenian has in long supply, the 24-year-old does have the temperament and fighting qualities, which often helps him get the better of his opposition. Unlike the Armenian, the current Shakhtar midfielder is also a very good all-around midfielder who can also help out his team defensively.
Truth be told, Fred is by no means an identical replacement for Mkhitaryan but could definitely help the team overall. Therefore, the Red Devils desperately need to sign this highly talented Brazilian in the January transfer window as Jose Mourinho looks to add more options in the middle third.