Mesut Ozil has been linked to multiple clubs as his contract with Arsenal is about to end after the 2017-2018 season. Reports now claim that he is close to a move to Manchester United to reunite with former boss, Jose Mourinho, under whom he played his best football at Real Madrid.
Jose Mourinho put up a smug expression and replied, "No comment" when asked about the possibility of him signing the German International. He had previously stated that Ozil was the best number 10 in the world.
Mesut Ozil arrived in Arsenal for £45.5 million from Real Madrid in 2013, making him the most expensive German player at the time. There is a possibility of him re-signing with the Madristas, to connect with his childhood idol, Zinedine Zidane.
His three seasons at Real Madrid saw him win the Copa Del Rey and the Supercopa De Espana in 2010-2011 under Jose Mourinho. He also bagged 81 assists in 159 games for the club and was widely praised for his silky touch and finesse, often being compared to Zidane himself.
Ozil stated he still maintains contact with the Real Madrid manager, and would not rule out a move back to Spain.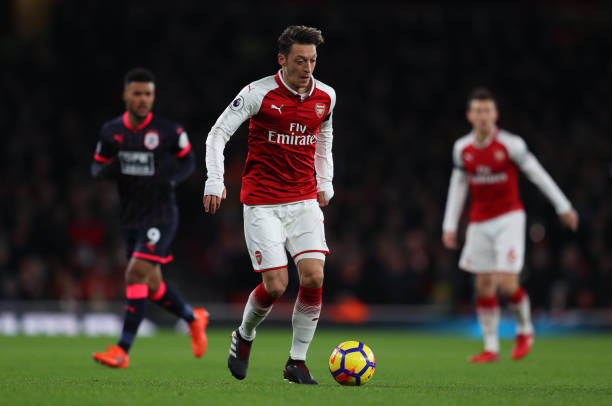 Due to his reluctance to sign a contract extension before the start of the season, he had already been under heavy speculation over possible transfers away from Arsenal. In summer he had been linked to Barcelona when they saw out the transfer of superstar winger Neymar.
He would be a cheaper alternative to Phillippe Coutinho if they fail to sign him from Liverpool in January. Chelsea has also joined into the horse race to pry away the German as per reports, as they look to improve their creative spark in attack.
Out of all the possibilities, Manchester United seems the most likely destination, as his game will be well suited to their style of play at Old Trafford and can be well integrated with the likes of Paul Pogba behind him and the blistering pace and skill of Anthony Martial and Marcus Rashford on the wings. Not to mention, the scoring beast in Romelu Lukaku as the lone striker up front.
Jose Mourinho can also implement him well in the number 10 role, adding a different dimension to his attack. With multiple choices facing him, Ozil will be motivated to end the season on a high note to get the best deal in his footballing career. But should it be at Old Trafford?