Tottenham Hotspur could find themselves chasing Kieran Tierney of Celtic very soon. The Hoops' left-back recently signed a contract that is six years long. Tierney, who has played for the club since the age of 17 after coming through the youth ranks wants a long and illustrious career at Celtic. He has been extremely impressive for Celtic and at the age of 20, has a long career ahead.
A Celtic youth academy product, currently playing for the senior team, made his debut two years back in 2015 as a teenager and since, has occupied the left-back position at the club. His love for Celtic is visible and having played for close to two years at the club, Tierney is closing in on 100 appearances for the club, a record very few people hold at such a young age.
Tierney was singled out for praise by Celtic manager Brendan Rodgers after the 2-1 midweek defeat to Bayern Munich. "Kieran Tierney was up against Arjen Robben and he was outstanding again," Rodgers said. "I had Danny Rose as a young player at Watford and I worked with Ryan Bertrand at Chelsea, and Kieran is right up there with those boys.
"He is still very young and those boys are into their latter twenties. He still has bits of improvements to make but his quality, his will, his determination and his focus for a young player is outstanding and he loves playing for Celtic.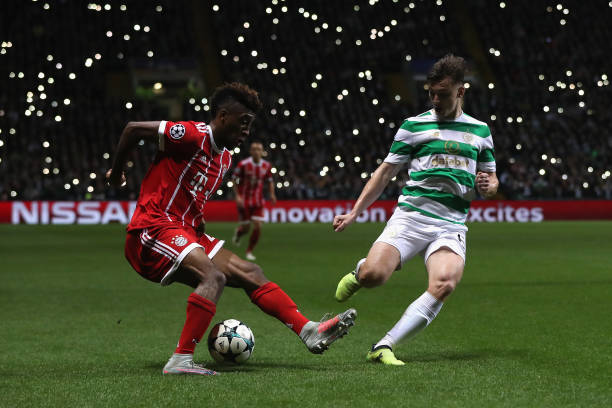 "And nights like that, you can see why he wanted to sign here. He is a real special talent, but a boy who is focused in improvement."
It is now being reported that Spurs have sent in scouts to take a look at Tierney's performances this season and are preparing a bid to bring the Hoops fullback to London. Spurs currently have Danny Rose and Ben Davies as the two first-team left backs. However, there has been a lot of unrest with the case of Danny Rose ever since he spoke out against the club's wage structure in the summer and Ben Davies is ideally suited as a backup option rather than a first team starter in the eyes of their manager Mauricio Pochettino.
Ideally, Spurs would want to replace the 27-year old Rose in favour of Tierney who at the age of 20 has a lot of time on his hand, unlike the Englishman. However, there remains the subtle doubt of how will a player, who has never played Premier League football, fare in England for one of the biggest clubs in the country now.