Filip Benkovic has been the latest footballing talent to come out of Croatian football in recent months. The Dinamo Zagreb youngster is making quite a mark in his homeland, featuring in most of the matches this season. The 20-year-old has recently caught the attention of some of the top clubs in European football, including English giants in Arsenal, Chelsea, and Spurs as well as AC Milan.
But how well will he fit in under the rigours of the Premier League? Here's a detailed SWOT report on the Croatian youngster.
Strengths
His physical prowess is undoubtedly his biggest strength as a central defender. Benkovic sports a massive figure of 6 feet 4 inches, which explains his nickname being 'Big Ben'. His tall figure helps him better his opponents in terms of aerial battles and to become a danger man in set pieces. It can also be very intimidating for the opposing attackers.
Furthermore, Benkovic is one of the most fearless defenders in his team, filled with tenacity and grit. He is also very imposing on his defensive qualities, partly thanks to his love of making challenges. The 20-year-old absolutely loves to get into the thick of the action with his typical rash nature of defensive play.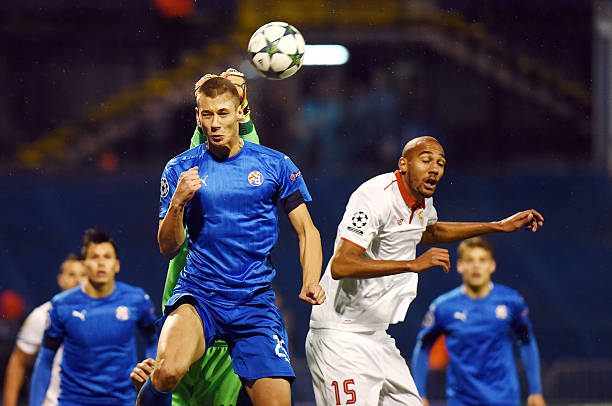 He can be uncompromising just like an old-school defender but also has the pace to make the necessary ground or to keep up with speedy attackers.
Weaknesses
There are a few snags in his overall gameplay as well. The Croatian youth international is not really that comfortable in possession and often fails to impose himself in the build-up play from the attack. As the game continues to evolve day by day, the importance of ball playing qualities for a centre-back is paramount, and that's where Benkovic needs to improve upon in order to thrive under any challenges in the future.
Opportunities
It might be a little too early for him to make the next step in his career considering the fact that the defender has just made his breakthrough to the senior squad just a year ago. He is currently in a phase where he needs game time to further improve himself as an all-around centre-back, therefore, staying at Dinamo Zagreb seems the most logical decision for the 20-year-old.
Threats
It will be no less than a gamble should any club tries to secure his services next season, especially in the Premier League. The centre-back is just way too inexperienced to be chopped in the fire of the Premier League, where he's bound to struggle. Therefore, spending a few more years at his current clubs definitely makes sense for the talented defender at the moment.