Luke Shaw's career has hit a new low as the left back is about to leave Old Trafford due to lack of playing time. In spite of returning from a foot injury two months back, he has played just over 47 minutes for Manchester United this season.
Jose Mourinho and the youngster are not in talking terms anymore and the manager has already hinted that Shaw is behind Blind, Darmian and Young for the first choice left back role. He is now left hanging by a thread as Mourinho is not expected to give him a chance in the squad itself. According to the Portuguese mastermind, he needs a 'better understanding' of the game.
Some reports do suggest that Luke Shaw wants to play for Mauricio Pochettino. In a book called 'Brave World: Inside Pochettino's Spurs', he has written a fraction, "I think with Southampton he achieved the impossible." He has also mentioned, "We were one of the best footballing teams in the league. I do hope that I can play for him again one day. And I think he really wants me to play under him again. "He used to call me his son, that's how good our relationship was. I've had lots of ups and downs, but when I was with Pochettino it was only ever up, up, up."
Shaw started his youth career at the age of 8 at the Southampton youth academy.  He is an early bloomer as he represented their U-18 squad at a mere age of 15. He became the youngest Southampton player to start a Premier League match versus Swansea City, in 2012. After the 2014 season, he was shortlisted for the PFA Young player to the year award. He was also the left back in PFA team of the year that season, which caught the eye of Manchester United. He has made 67 appearances for Southampton and 49 for the Red Devils. He is yet to register himself onto the scoresheet in his senior career.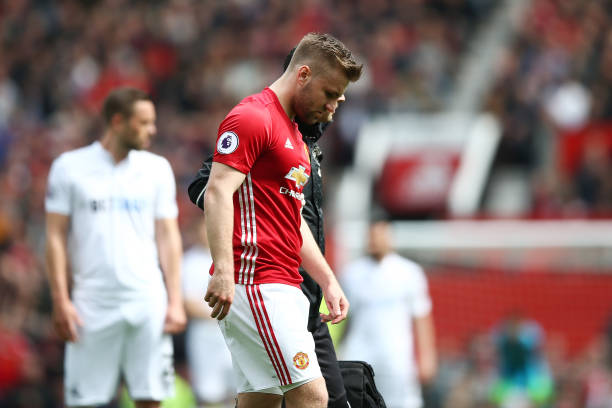 Shaw has been compared to former Southampton youth player, Gareth Bale due to his trenchant pace and willingness to dominate the game while going forward. He usually beats defenders who try to block a cross. He is a good dribbler, can beat players easily and use his strength to good effect. Defensively, he is strong and well-built for a 22-year-old. He has good ball control and covers the wide area satisfactorily.
Jose has the habit of abandoning players wherever he takes charge. At Chelsea, he didn't include Mata in his plan, who was their player of the year for two seasons in a row. At Madrid, he had a problem with Kaka. He seems to not give a fair chance to some players at times by not understanding the mentality of each player. Some players like to be treated kindly and softly. Another example is of Kevin De Bruyne, who didn't fit into his team but is now one of the best playmakers in the world.
It would be better for a player like Shaw to exit United and work towards his career, maybe with Pochettino, with whom he shared a father-son like-relationship. He has shown his class at the highest level and if it's not observed by his manager, there are other high-quality teams for which he deserves to play.