One of Liverpool's prized assets at the moment is German International Emre Can. His development at Liverpool has grown by stature, evident in clubs battling for his signature as his contract situation with Liverpool is at a standstill. The insertion of a release clause in player's contracts has become a common feature. Given that the absence of this feature in signing a new contract prohibits players to get into contact with other clubs, it is understandable that the German powerhouse is persistent on it as well.
Liverpool have been constantly negotiating with Can's agent to come to an agreement that suits both parties. Unfortunately, Liverpool are unwilling to insert a release clause in Can's contract extension at the moment. Now we now take a look as to why Liverpool should drop down a level and agree to the player's demand.
Having joined the club from Bayer 04 Leverkusen for a meagre £10.80m, the German powerhouse has gone on to become an integral part of the club. Things did not get to best of starts for the German as he was constantly shuffled between the centre-back and centre-midfield position by Brendan Rodgers. As a result, the player lacked consistency and reasonably so.
Things started to get better and better as Jürgen Klopp took to the realm. Klopp was aware of Can's worthwhile potential and cemented a position for him in the middle of midfield. Although naturally a number 6, he has shown his quality in the final third as well. Confidence seems to be oozing for the German having 4 goals and 2 assists already, just 1 goal short of his previous campaigns' tally. It gets even better when a manager knows that the player can be deployed all around the park. At any given position, he is known to adapt and give it his all, if at all such a crisis occurs.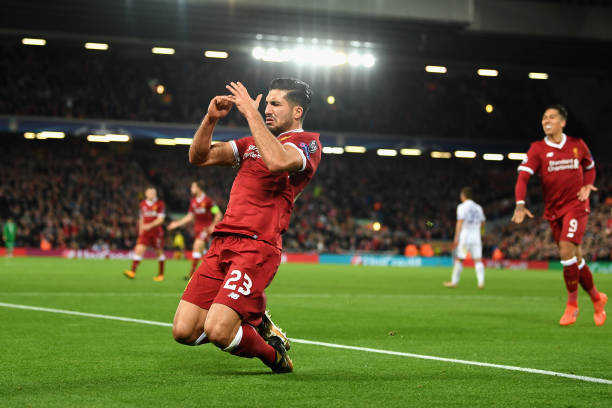 Here we take a look at a small comparison between Emre Can and a few select players from the Premier League's top clubs in his position. We boggle down to a financial debate on this contract situation. Emre can earns £55,000 a week for his services at Anfield. Looking at other top clubs namely Manchester United, Manchester City, Chelsea, Arsenal and Tottenham, the player comes at a mighty bargain. Matic (£140,000), Bakayoko(£110,000), Fernandinho(£90,000),Dembele(£80,000),Xhaka(£90,000) are all higher earners than the German.
On average, the Liverpool man's wage is considerably-minimal to the others. Debates would come in regarding the quality of players mentioned above to that of the ex Bayern man. Maybe yes, but the player does not fall short by a huge margin by any means. At just 23, the German is looking quite promising to challenge the big boys and possibly become one of the best.
We often speak about the squad depth that is vitally important for a team ambitious of winning silverware. With Naby Keita set to join Liverpool in the summer, and possibly a few more to come in, keeping hold of Emre Can could be a massive boost. It would delight Jürgen Klopp at the vision of turning to a bench full of talent and game changers.
As we epitome, this issue, coming to an agreement with Can, to sign a contract extension is extremely vital. It is one that the Liverpool board has to act upon quickly because come January, clubs will be pouncing at the player for his signature knowing that the contract situation is a dead end.
Should Jürgen Klopp and the board make this a priority?