West Ham United's new boss David Moyes is keen on making Lewis Dunk his first signing after taking over the reign at West Ham, in the post-Slaven Bilic era. The Hammers have been leaking goals all season and are in desperate need of reinforcements at the back.
Lewis Dunk has made a decent start to life in the Premier League by helping his side sit comfortably at the 8th spot in the table despite many suggesting a hard relegation battle for the Seagulls.
It is quite glaring why the ex-Manchester United boss wants the central defender. West Ham holds the league's worst defensive record in 11 games. Their mistakes have been far too expensive and have been rightfully punished.
The Hammers have picked the ball from their own net a mammoth 23 times, averaging 2.1 goals conceded every game. Bilic deployed a back-four on four occasions and took a battering, conceding 13 goals in those games.
Much can be attributed to their lack of young guns at the heart of the defence. All of West Ham's centre-backs are aged 29 or more. An addition of fresh, young players could help solve their defensive crisis. Recent injuries to James Collins and Jose Fonte have come at the wrong time and luck certainly hasn't played its part.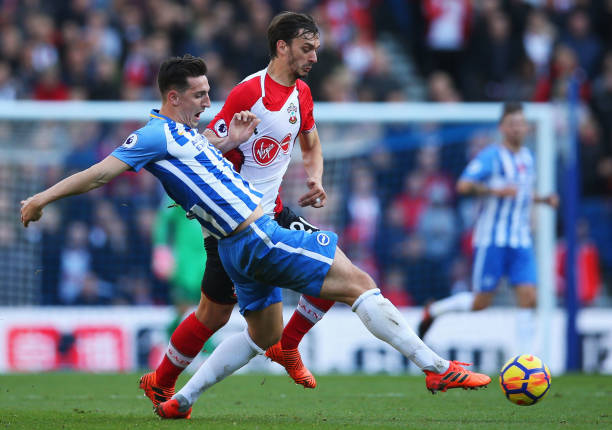 Lewis Dunk has had a contrasting start to that of West Ham's defenders. The Englishman has four clean sheets to his name. Well regimented at the back, Lewis Dunk is not shy of a clearance, making an average of 6.3 per game.
He wins his fair chunk of aerial battles, an attribute supported by his height and physical presence in the air. The recent performances have even tempted Gareth Southgate to hand him his first opportunity at the National level.
Brighton & Hove Albion's vice-captain would, by no means, be an easy one to bring in to the London Stadium. The Englishman signed a fresh 5-year contract extension recently and West Ham will have to make a huge offer if they wish to land Dunk anytime soon.
Despite that, reports suggest that David Moyes has the board backing him financially and has the leverage to buy players of his desire. With Dunk's addition, if Moyes pulls it off, the need to have a consistent pairing at the back might be solved.
Expected to go in with a four men backline, Moyes has to decide which central defender will get to partner the 25-year-old, given his current players are all short of confidence. He might also be tempted to test the resilience and character of his youngsters when called upon. But do you think Lewis Dunk can make a difference at the London stadium?