As per one of the latest reports put forth by the Daily Star, Championship outfit, Aston Villa, have put Manchester United's Michael Carrick on their radar. Carrick has been serially overlooked by Jose Mourinho this season as he has been handed merely one start, that too in Carabao Cup, so far.
The lack of game which he has received so far this season has really frustrated him considerably and it is implied that the midfielder is likely to vouch for an outlet in the January transfer window. The Daily Star has reported that apart from the Villans, Premier League outfits, West Bromwich Albion and Leicester City, are also monitoring him closely.
Mourinho can hardly be blamed for Carrick's downfall in stature, for the Portuguese has a plethora of stars at his disposal. The former Chelsea manager has the luxury of having Nemanja Matic, Paul Pogba and Marouane Fellaini under him and given that Carrick is in the wrong side of the thirties, the diminution was on the cards.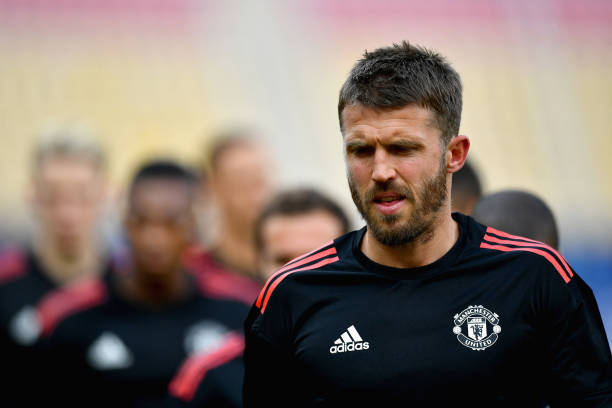 Carrick started his senior career with West Ham United and after a notable period with the Hammers, the midfielder was signed by fellow London outfit, Tottenham Hotspur. However, most of his success stories can be traced to his tenure with Manchester United, as he was a key member during the golden period of the club under the tutelage of Sir Alex Ferguson.
The 36-year-old is a player with truckloads of experience and galvanizing pedigree and his entry into the ranks of Steve Bruce would automatically enhance the quality of their side. Aston Villa were timorous last season and they failed to mount a serious challenge for a place inside the top-six berths. Nonetheless, they are appearing to be a much better side this time around.
After 15 games in the English second division, the Lions have collected 26 points and are placed at the 5th spot in the league table. They need to keep the momentum going and to ensure that they don't wither away during the second half of the season, they would need to refill their armoury in the upcoming transfer window. Carrick, at this stroke of the hour, seems to be a decent prospect.
Villa managed to bring John Terry in the summer and thus, it would not be surprising to see them making a huge signing in the near future to beef up their chances of promotion. To be honest, someone like Carrick, who has proven his mettle in English football, would be able to inject steel into their midfield apart from his leadership skills.
Latest posts by Prasoon Sur
(see all)