Luke Shaw's Manchester United career could soon be coming to an end, with the Englishman understood to be on borrowed time. He has fallen down the pecking order with Marcos Rojo, Daley Blind and Matteo Darmian all higher up the pecking for José Mourinho. The ex Southampton star is crying out to his former boss to re-energize his descending career.
He has made just two substitute appearances since his injury. Mourinho, having publicly criticized the left back on previous occasions, the youngster could be headed for the exit doors come January.
Hampered by injuries throughout his career at Old Trafford, he is yet to kick-start his engine. Purchased for a mammoth fee of £27m, Shaw showed promising signs of becoming one of the best left-backs in the world. Sadly, things haven't quite gone according to the script for the 22-year-old. Can Pochettino recompose Shaw's career?
Luke Shaw has everything in his locker to become one of the most exciting left backs in the world. Not many can outrun the youngster in a foot race nor can he bullied off easily. His two biggest assets, pace and physique, when used judiciously, can elevate his untapped potential. Pochettino promises to do just that as was the case in their alliance at the south coast.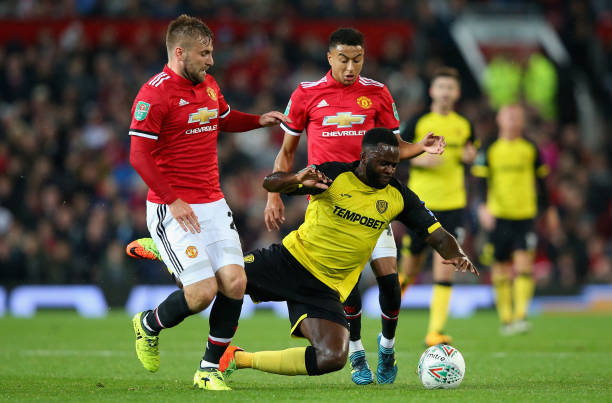 Tottenham's left back position shows promise already with the likes of Danny Rose and Ben Davies both doing a tremendous job. The Englishman man's induction into the squad is only going to make the competition even hotter.
Pochettino knows Shaw's trade in and out. Under the Argentine's system, it is a position that he could thrive on. Motoring forward, Shaw is a deadly weapon in the final third of the pitch. The likes of Kane and Llorente would be licking their lips on crosses delivered by the youngster. Defensively too, the left back is a machine. As much a deadly force he is up top, he is also a beast at the back. It is never broad daylight for runners looking to bolster past him.
In his Southampton days, Shaw showed the world what he promises to bring, evident in United tapping the 22-year old's services. Since then, his growth has been quite stagnant. Given that a move to Tottenham is in no aspect a downgrade to his current team, Shaw has nothing to worry about.
It is evident that the end is near for the talisman at Old Trafford. What could be better than teaming up with his previous boss, who brought him to the centre stage? This is a move that Shaw shouldn't let slip away in any regard. Given the signal, it is a move of crisis and possibly a fortune changer for the Englishman.
Could the move to White Hart Lane be the icebreaker in his career?