Tottenham Hotspur have tried various permutations and combinations at the back over the years but only Toby Alderweireld's arrival could help usher them into a new era where they managed to remedy the defensive frailties which had continually held them back for years.
Along with his Belgian compatriot, Jan Vertonghen, Alderweireld has shored up the defence, as he had, to whichever club he moved to in the previous years. Tottenham ranked joint-first along with Manchester United for the 15/16 Premier League campaign and ranked first in the Premier League season 16/17 for goals conceded.
According to the latest reports, Tottenham's Belgian centre-back is demanding a new improved contract to remain at Tottenham or could be allowed to leave the club. It would be an absolute no-brainer for the club to extend Alderweireld's contract, giving him a deserved pay rise. Spurs may be jeopardizing the situation by prolonging the deal further.
Alderweireld is an invaluable asset to the club and it would be extremely difficult to adequately replace someone of his quality. The 28-year-old has been really impressive for Tottenham, featuring in 75 of the 83 matches in the Premier League since his arrival.
He comes up with vital interceptions and his ability to anticipate a pass is unparalleled in the Premier League. With his ability on the ball, he has all the qualities a modern-day centre-back should have. In addition to that, his cross-field balls are a constant theme throughout Tottenham games, enabling them to go direct or spread the attack wide.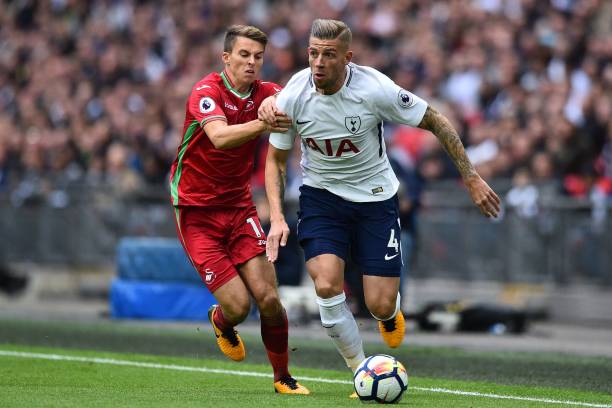 On numerous occasions, Alderweireld has had the vision to catch the opposition on the counter by his accurate long balls. He is one of those rare players who tracks the opposition's movement till the last moment and somehow takes care of the situation by blocking or tackling.
He rarely lunges into a challenge, thus seldom giving away too many set-pieces. Since he is not really a pace-dependent defender, he is unlikely to deteriorate in the coming years and may even get better.
This situation is certainly a test for Tottenham's ambitions, who will move to the new stadium next season. Going into the new stadium, Tottenham must see to it that they manage to keep all their big players and Toby Alderweireld is certainly one of them. It's for the first time in years that Tottenham were able to dig themselves out from the rut of mediocrity and it would be downright foolish to not see to it that one of the most important players who helped the club reach this level, is happy and satisfied.
By all means, Alderweireld thoroughly deserves a new improved contract and even selling him for a big profit would mean a step backwards for the North London outfit. The longer this particular saga drags on, the worse it is for Tottenham. The club should see to it that they tie the top player down to an improved long-term contract as soon as possible.