Tottenham Hotspur are ready to battle it out with Chelsea in the race to sign Everton midfielder Ross Barkley. The English midfielder is out of favour at his current club and is reportedly looking to leave the Goodison Park in January, which leaves Chelsea and Spurs in a tug of war in the winter transfer window.
Barkley was well on his way to Chelsea this summer, before rejecting the offer midway through the transfer deal. While the Blues are once again ready to make an attempt to sign the 23-year-old, Tottenham feel confident of landing the midfielder in January.
Tottenham head coach Mauricio Pochettino is keen for more options in midfield. Their current crop of midfielders is either injured or totally out of sorts at the moment. Moussa Dembele is apparently struggling with a foot injury while Moussa Sissoko has been terrible with his performances for Spurs.
A move to Tottenham could prove to be beneficial not just for Ross Barkley but for England NT coach Gareth Southgate as well. Considering Pochettino's impressive record of developing English talents, Southgate will be praying for Barkley to join the Lilywhites.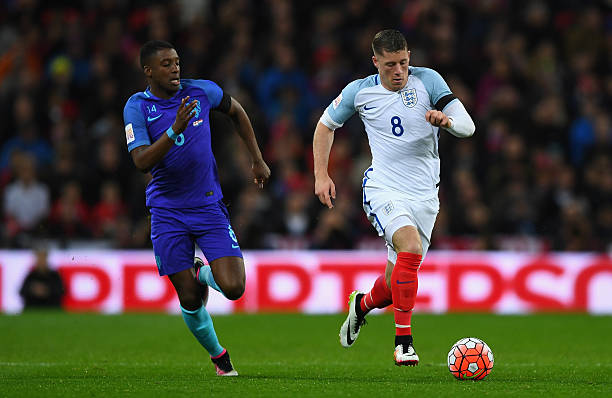 With Dembele injured, Barkley could get some genuine game time to prove himself as one of the most promising creative forces in the England squad. He could play in a deeper position in midfield, with Christian Eriksen or Dele Alli already occupying the offensive front.
Barkley can finally showcase his ability to create a tempo at the centre of the pitch with his sharp movements and direct passing. There's a chance that he will partner Dele Alli and Eric Dier in what will be an all-English midfield trio for Tottenham, which would only please the England boss.
Barkley himself will want to nail down a place in the England starting lineup for next year's World Cup and there's no better place than Spurs to showcase his abilities, especially as an Englishman. Furthermore, the 23-year-old can also bolster Tottenham's midfield with his versatility.
Since he can play the offensive positions as well as playing as a number eight, Pochettino will have no shortage of options at the centre of the park.
For Barkley, penning a deal for the Lilywhites to nail down a spot in the upcoming World Cup is by far a more logical decision than to compete against the likes of Fabregas, Kante, and Bakayoko for a place in the starting XI. It will be interesting to see how the Barkley transfer saga pans out in January as two PL giants battle it out for the signature of the highly coveted English talent.