3 wins, 3 losses, and a draw; 13 goals scored and 12 given away; a record Jurgen Klopp is not going to like too much. In his third season at Anfield, the former Borussia Dortmund coach is under immense pressure to help Liverpool back to their best but the numbers at the start of the piece show otherwise.
After seven games last season, Liverpool picked up five victories and lost just one game, and had 16 points to show for. The league positions are not too different but this is too early in the season to compare the positions on the points table. However, 18 goals scored and just 10 conceded shows that Liverpool were a better side as a cohesive unit this time, last season.
They have not improved over the course of the last 350+ days and the manager needs to shoulder a lot of responsibility for their frailties this season. Though it was almost unthinkable that' Jurgen Klopp' and 'sacked' would be used in the same sentence a couple of months ago, right after Liverpool managed to qualify for the Champions League, it now looks like his job is in danger, or at least that is what the press around England wants you to believe.
With his win % not even matching the likes of Van Gaal (51.92%) and David Moyes (52.94%) who had much better W/L record's than Klopp in their stints in England, the German manager has failed to establish himself as an asset for Liverpool so far and his failure to lift even a single trophy as their manager only makes it even worse.
The 50-year old has what it takes to compete with the best in Europe, even with the weakest of squads, as he showed in his time in Germany, but Liverpool are now in danger of turning into a stagnant club, showing no progress in recent years.
With just two points from two group games in the Champions League, Klopp's side do not look too superior in their European endeavors either while their early exit from the League Cup cannot be good for the morale of the side.
The transfer window before the start of the season gave the manager enough time to improve on his options but not many of his signings have been able to integrate into the first team this season.
Egyptian winger Mohamed Salah has made a flying start to his Anfield career but the likes of Andrew Robertson, struggling to get onto the bench and Alex Oxlade-Chamberlain, who is yet to start in the league, have not been able to show why the manager decided to spend on them.
It is interesting to see that Klopp decided not to spend on a CB after missing out on Virgil van Dijk, a top transfer target for the Reds in the summer. The former Celtic star reportedly agreed a move to Liverpool but an illegal approach from the Merseyside club meant that Southampton had the cards to keep him at their club.
The Dutch ace could have solved most of the problems currently prevailing in the squad but once it was clear that signing him was a mountain to climb, Klopp was reluctant to spend on an alternative, albeit for the short-term, and that is seriously having its effect on Liverpool's campaign.
But the German now has limited ways to work with and if he wants to save his job, he will quickly have to make sure that things change at the Merseyside.
In the last four games in all competitions, Liverpool have 120+ attempts on goal and have just around five goals to show for. In the same games, they have conceded close to double they scored, and it was surely a month they will want to forget.
Lack of form, injuries, and suspensions have all played into their bad fortune but with not much happening for them in the last couple of games, it is important that Klopp takes the initiative and makes things happen.
The German tactician used a 4-2-3-1 system in his time in Germany but decided to stick with a 4-3-3 from his first game in England. Though this system, with similar personnel, gave Liverpool some moments to remember in the recent past, it is now going stale and is not helping their cause.
The introduction of Mohamed Salah surely improved Liverpool's productivity in front of goal but unless they play as a unit, the Reds are not going to pick up too many points in the near future.
So a tweak in the system might be the way to go and that, without making any change to the first team names.
The back-4 and the combinations Klopp can try is a topic for an entirely different piece and similarly, their goalkeeping conundrum deserves a blog on its own. It has always been Liverpool's weakness and until January, will stay that way, so Klopp should find ways to make sure that it does not effect the whole team and disrupt their campaign.
So this might be their only way forward:
Skipper Jordan Henderson has been decent in a CDM role but inconsistent. But to be fair, it is hardly a position he has ever excelled in. Emre Can remains Liverpool's best option in that role but Klopp has decided that his skipper is better equipped and has chosen to ignore his national compatriot for most of the games.
To solve the issue, Klopp should now look to go back to the 4-2-3-1 system that brought him so much success in the past.
In this system, Liverpool can use both Can and Henderson the deeper roles, giving their defense a better shield. Both players are work-horses and are surely going to adapt to this role without too much fuzz.
This is where the real tweak needs to be made.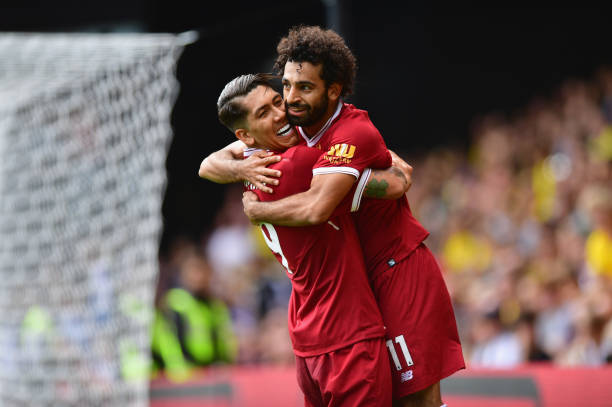 Roberto Firmino has struggled as a no.9 this season and it is clear that Liverpool lack a goal scorer who can score 20+ goals in the league. The general consensus was that the front four and their attacking prowess will cover for it. But at the moment it is not proving to be easy and it might be better for Klopp to push Firmino a bit deeper.
In one of the games earlier this season, with Sadio Mane absent, Klopp decided to use Firmino through the middle and Sturridge ahead of him. Though there was no monumental change in Liverpool's attack, it did make a difference.
So Firmino in a no.10 role will retain his importance to the side as the initiator of Klopp's 'gegenpress'. But who will lead the line then?
Daniel Sturridge is no longer the swift-footed striker who could score goals with every chance. He is still Liverpool's best goal scorer but does not belong in the first team when Liverpool face the likes of Real Madrid and company in the Champions League.
Dominic Solanke is too young to take up this responsibility but one player who Klopp can turn to is Salah. The 25-year old has previous experience as a false-9 in his time at Fiorentina and even AS Roma. As a center forward, Salah has five goals and two assists in just eight games and it is not too hard to understand why he will be effective.
His pace to run in behind defenders and his ability to use his strength are two qualities that a center-forward in the league needs and Salah can surely do a great job in this role. He has also played as a secondary striker in 29 games but interestingly, his goals to games ratio is at its best when played as a striker. A false-9 per se.
Both Firmino and Salah are capable of interchanging places without any effect on the formation and this will add versatility to an already fluid Liverpool attack.
If it was not enticing enough for Klopp to make a change, what this also does is give two players in the first team, a chance to play in their regular roles. Brazilian ace Philippe Coutinho has been sensational this season in front of goal but playing a central midfield role.
If Salah is pushed up top, Coutinho can slide into his more natural LW position, which will see Sadio Mane, Liverpool's speed merchant, moved back to his familiar position on the right wing.
Georginio Wijnaldum, who has been off-color and Adam Lallana, who is yet to return from an injury, will have to drop to the bench but this formation gives the side more solidity and adds creativity to the front line as well.
Though talks of sacking Klopp are childishly premature, if things go the way they are, it will not be easy for the Reds to save their season. There are more reasons than one as to why the German should be shown the door, as illustrated here, but having taken Liverpool to the Champions League, just a year after they were lingering outside top-6, is an achievement that should give the manager more time at the club.
The success teams like Chelsea and Spurs have had in a 3-4-3 system might tempt Klopp to check that out as well, but with lack of two top-class center-halves, playing three in a game could be suicidal. So the real tweak Klopp can make to the system is mentioned above and it might not be too long before the manager decides to implement it.
The Reds may yet stitch a winning-run right after the international break but if things do not change in the next few games, Klopp should definitely try this amendment to his structure that can go a long way in getting them back to winning ways.