A Bola has launched a claim, suggesting Benfica are really interested in the services of Freiburg centre-back Marc-Oliver Kempf. The German youngster is also courted by English giants Manchester United and German champions Bayern Munich.
Kempf starred in Germany's U-21 World Cup this summer, featuring as the mainstay in the defence. The youngster has also been an important figure for his club in defence. Manchester United have a 'better financial argument' as per the report, which would make things difficult for Benfica and Bayern as they also try to land on the young defender.
Here's a detailed SWOT report on Freiburg's latest defensive gem.
Strengths
Marc-Oliver Kempf is definitely one of the best defensive assets for Germany at the moment. Left-footed centre-backs are worth their weight in gold these days, as they can play as the LCB with more superiority than others, and Kempf certainly excels in that.
Kempf is a strong tackler and has the pace to go with it as well. His partnership with Caglar Soyuncu was one of the reasons behind Freiburg's impressive campaign last season. Standing at 6'1, he has a relatively decent figure, which gives him an edge in terms of an aerial duel.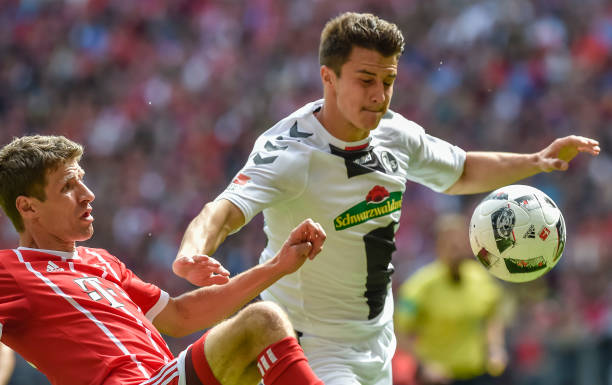 But the fact that Kempf is supremely adept in his ball-playing skills is what sticks out the most. Kempf is very good at passing. He attains an impressive pass completion rate of 80% even in a counter-attacking team like Freiburg. Furthermore, he attempted seven defensive actions per game last season, which was only bettered by Caglar Soyuncu.
Weaknesses
Although Marc-Oliver Kempf is regarded as one the best defensive talents in the Bundesliga, the youngster still has a lot to improve. He is guilty of losing possession at times and even make an individual error which could prove costly for his team.
But most important, Kempf is not as good as it seems. The 22-year-old often struggles in high profile encounters, which is certainly not a good sign. He also lacks commitment sometimes, which prevents him to dive himself into tackles.
Lastly, Kempf's injury concerns are definitely a worry. The youngster featured in only 13 games last season, because of a Meniscus injury, and that could come back to haunt him in the future.
Opportunity
Moving to Manchester United might not be ideal for Kempf's development in nigh future. In fact, the youngster was on the verge of joining Juventus a few seasons ago, but he chose not to move to Turin, as it could have hindered his progress.
Given the amount of competition he'll have to deal with, it's really hard to imagine, Kempf getting too many chances with the United team. Especially with the likes of Phil Jones and Eric Bailly performing so well.
Threats
Kempf's weaknesses could potentially prove to be a threat in his future. The defender really needs to improve his overall defensive abilities, if he is to make an impact at any top quality team. Therefore, spending a couple of more years in the Bundesliga could be ideal for the 22-year-old.