Federico Chiesa has been one of the rising stars in the Serie A this season. The 19-year-old, son of former Serie A star Enrico Chiesa, is raising quite a lot of eyebrows with his blistering with Fiorentina. The winger was courted by Chelsea this summer, as a long-term replacement for Eden Hazard. Borussia Dortmund weren't shy to show their interest either. But recently, Bayern Munich and Liverpool are also keen to secure the services of Federico Chiesa.
Here's a detailed SWOT report of the highly talented attacker from Fiorentina.
Strengths 
Federico Chiesa is certainly one of the most industrious wingers one will come across. Under Fiorentina head coach Stefano Pioli, the youngster is given a difficult role of acting as a right wing. However, the role keeps changing in accordance to the situation of the game. In an offensive stance, Chiesa likes to blend in with the team's build-up play and act as a proper winger. While in a defensive stance, the 19-year-old moves deep to almost act as an auxiliary right back. Executing such a complicated role at such a young age proves his maturity, which is well beyond his years.
Chiesa has sheer pace, which is rather necessary for a winger these days, but more importantly, his aggression is what makes him such a unique figure in the Fiorentina squad. Chiesa isn't someone who stays in his position and likes to get fed by long balls from deeper positions. His aggression helps him take part in the Fiorentina's pressing scheme, and the youngster is fairly comfortable in resisting the press as well.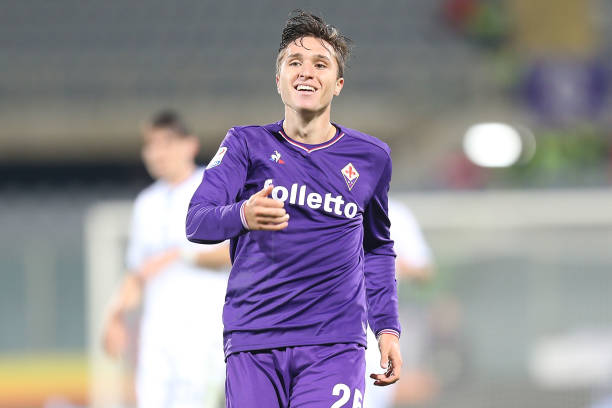 While he's not someone who can evidently make a big impression in the offensive front, Chiesa is definitely one of the most hardworking youngsters in European football right now.
Weaknesses
Chiesa is just 1.75m tall so physique is definitely not his best asset. The highly rated Italian lacks physicality, although his aggression kinda makes up for it. But more importantly, Chiesa is not the best of players with the ball. He tends to lose possession more often than not, certainly the most in the Fiorentina lineup. Therefore, he needs to improve his qualities on the ball, in order to thrive at the top level.
Opportunities
Federico Chiesa could certainly make an impact at Liverpool. Head coach Jurgen Klopp will be delighted to have the services of the Italian youngster next summer, especially after all the rumours surrounding Coutinho's possible move to Barcelona. Chiesa is perfect for Klopp's high pressing game, which was somewhat similar to what Paolo Sousa executed at Fiorentina.
However, a move to Bayern Munich could create trouble for the youngster, as he won't probably be given much game time due to the presence of some of the most sensational talents in world football.
Threats
It's the position where he plays which can limit his growth to a certain extent. His role as a right wingback clearly restricts him to freely move forward and show his offensive talents, which could ultimately come to haunt him later on in his career. Unless of course, he's moulded into a natural wingback at Fiorentina.