Napoli center back Kalidou Koulibaly has been one of the hottest defensive assets in the Serie A for the past couple of seasons. The Senegalese International has been a key part of Napoli's defence in recent years, and despite several interests from top clubs around Europe, the Ciuciarellis have managed to keep hold of their defensive star.
However, that may come to an end, as the club from Naples has already issued Chelsea a price-tag in order for the Blues prise away their defensive star. Chelsea has long been a keen observer of Koulibaly over the years and might be tempted to acquire the services of the highly rated Senegalese defender next summer.
According to Federico Albrizio of Calcio Mercato, the Partenopei have a slapped a price tag between €60-€70m for Kalidou Koulibaly. But should the Blues take the gamble?
Chelsea have considerable depth in the defensive department. The Blues boast the likes of Gary Cahill, David Luiz, Antonio Rudiger and the exciting youngster, Andreas Christensen, whilst also having Cesare Azpilicueta. However, there's still room for improvement when it comes to defensive solidity.
Their defensive mishaps were clearly evident in the game against Crystal Palace last week and Watford this week, as the Blues failed to keep out teams that they should not be struggling against. Gary Cahill is an international star but somehow fails to prevail in high-end encounters.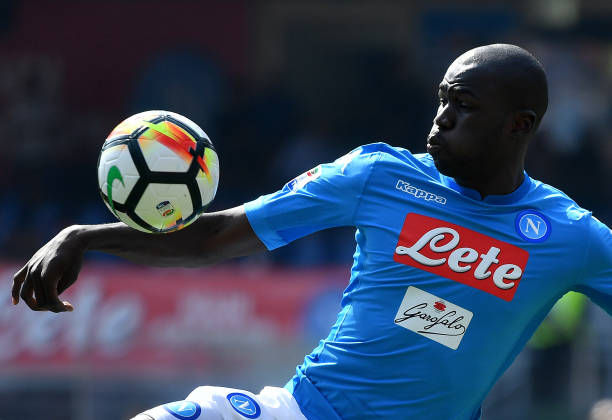 While David Luiz is undoubtedly a world-class centre-back, a good defender alongside the Brazilian International could make the defence much more solid for Chelsea. Rudiger has shown signs of his dogged defensive nature but doesn't look ready for the big time just yet, same can be said for Andreas Christensen.
Therefore, Kalidou Koulibaly will make a perfect match for the Blues. His physical nature of defending suits perfectly to the English game, but more importantly, the defender has made himself much more versatile in terms of tactical awareness.
Despite boasting sheer physicality, Koulibaly doesn't always rely on his physical prowess and instead uses his brain to snuff out key passes. His intelligence for the game has grown significantly, especially under Maurizio Sarri.
Sarri's influence is clearly evident when looking at his passing stats for the season. The 26-year-old has been transformed into a pass master by the Italian boss. He acquires a staggering pass completion rate of 94%. But that's not the end of the story just yet. Koulibaly also excels at aerial duels and has already scored twice in just eight games this season.
All things considered, Kalidou Koulibaly is definitely one of the hottest defensive assets in Europe right now and the price tag totally does justice for the talented 26-year-old. No doubt, Chelsea head coach Antonio Conte will be delighted to have the services of the Senegalese international playing alongside David Luiz. It is a gamble worth taking for the Blues.