After a lengthy absence from the starting line up, James Milner finally made the cut against Maribor earlier this week. He has been left frustrated by the lack of matches he has been getting, having last started a game on September 23. Entrusted with the captain's armband for the Champions League game, the ex England star showed why he is still an excellent option for Jurgen Klopp.
The veterans' life at Liverpool seemed to be coming to an end after his lack of matches and interest from other clubs as well. However, Jurgen Klopp has brushed off any prospect of their vice-captain leaving Liverpool this January when the transfer window opens.
It can only come as a huge boost for the club as such. The Liverpool number 7 can take up positions all over the park. Any manager would love to have him in their team simply because of the versatility that he brings to the squad. He is a great leader among men and one can only see his presence as a blessing.
Alberto Moreno has taken up the left back position surprisingly well and Andy Robertson breathing down his neck, the left back position that Milner handled astoundingly well last season is not the route into the team. But his predominant position as a centre midfield player is the better route.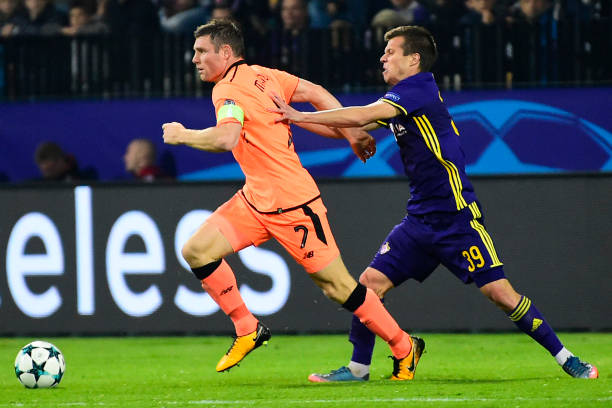 He showcased a classy performance in the 90 minutes against Maribor with a high pass percentage of 93.7%. Milner showed how dominant he can be in the middle of the park, winning lost causes and quickly able to distribute balls into the channels and his players up ahead.
That is a sort of performance that could make Jurgen Klopp to rethink about his midfield trio. A few more displays of that calibre and he could be in serious contention to replace Jordan Henderson in the number 6 role.
The talisman has an everlasting engine even at the age of 31. He is in no way an inferior option to Jordan Henderson who possesses similar qualities to that of Milner. But what the two time Premier League champion brings to the side is heaps and heaps of experience behind his back, something that this Liverpool side lacks.
To a player alien to the left back role, he settled into that role in no time. It might be staggering to know that he was ranked the second-best fullback in Europe, with Alex Sandro leading the line. He is a player who puts his head down and does the job in hand. A lot of these boys at Liverpool can look up to Milner on how to be professional. Such is his discipline and work ethic.
Keeping hold of a player with such startling qualities is a must for Liverpool and Jurgen Klopp, qualities that are not easily available in the market today.
Do you think he should stay at Liverpool?