Egypt has found a new hero! When Liverpool FC winger Mohamed Salah converted the last minute penalty against Congo, it meant more than just World Cup qualification for a country ravaged by years of turmoil, mediocrity, soaring prices, security forces fighting against Islamic militants, it also ushered the dawn of a newly invigorated Egyptian national football team.
In a match filled with higher stakes than ever before, the Egyptians already took the lead within the hour mark, when their poster boy Mohamed Salah rolled the ball past Congo goalkeeper Barel Mouko. But the writing was on the wall, as Egypt conceded an 87th-minute equalizer from Arnold-Bouka Moutou. Rather than being referred to as 'an equalizer' – it more seemed like a sucker-punch for the home side.
Hundreds and thousands of Egyptians inside the stadium, coated themselves with fear, in what started to feel like just one of those moments where they once again came close yet failed to qualify for the World Cup. Although hope was there, as a win against Ghana could have ensured their WC qualification, most of the Egyptian players were absolutely decimated, none more so than Mohamed Salah. Perhaps they knew beating the mighty Ghanian National Team is not a piece of cake after all.
The former Chelsea winger collapsed to the floor but didn't lose hope, as he gathered his confidence back and rallied his teammates for one final push. The passion was evident, but so was the fear, amongst the scanty faces of these Egyptian players. However, somehow the Egyptian managed to carve out a final chance to seal themselves a ticket for next year's WC, depicting drama from the highest order.
In the extra time, Beranga Itoua fouled 'Trezeguet', which eventually led to a penalty. Now it was up to Mohamed Salah to convert the penalty, which could have decided the fate of his country's footballing dreams for many years to come. However difficult it may have been, the 25-year-old kept his cool and easily converted the penalty, as joy ruptured throughout the entire city of Alexandria.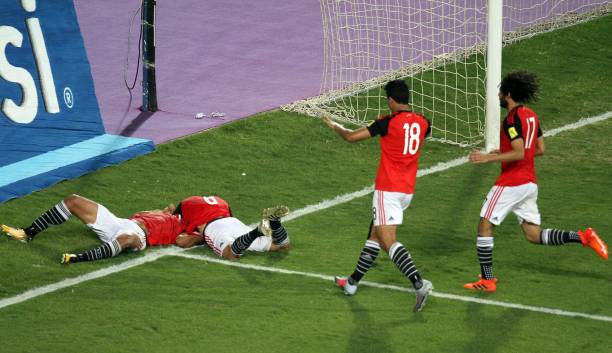 The final whistle had blown and the fans were bloated with ecstasy, jubilation and to a certain extent, exultant. Mohamed Salah was their hero. Soon after the game, Egyptian president Abdel-Fattah el-Sissi was quick to congratulate Egyptian football team and their wonderboy Mohamed Salah.
"I thank you, Mohamed. I thank you all, of course, but Mohamed was under a great deal of pressure from 100 million Egyptians. He had to convert for us to win." – he said in a press release.
That of course came after the fans and social media had already started nominating their whizkid Mohamed Salah to become the next Egyptian president. But fans also upheld the Egyptian tradition as well, with pictures of Mohamed Salah becoming a king, and even a pharaoh weren't too shy to pop up in the social media newsfeed. Others devised to change the phrase "Sabah-el Kheir", Arabic translation for Good Morning to "Salah-el Kheir".
"Salah's Egypt" – they called it and it's not hard to imagine why.
Including his winner against Congo – the Liverpool attacker scored five of Egypt's seven goals in their qualifying campaign. Egyptian Messi? Not a far-fetched analogy either!
Passion and commitment was the actual winner when Mohamed Salah rolled the ball past the Congo goalkeeper. Not only Salah but the entire Egyptian eleven formed a unified whole as the beautiful game, as we call it, once again showed just beautiful can it possibly get, despite in this era, dominated by Russian oligarchs and Arabian sheikhs swinging in cash to find success. The story of Egypt will remain a tale for many years to come among fans, who still seek the true essence of Jogo Bonito and most importantly, the story of Mohamed Salah could continue as he sets himself up for a starring role in next year's World Cup. Watch out for this guy!