Borussia Dortmund superstar Marco Reus recently spoke about his current situation at Borussia Dortmund. Answering to GQ, over his future, Reus hinted some that he would consider a move elsewhere in the coming seasons as the German international looks to get back in action soon.
"There are four or five international clubs who interest me. On May 31, 2019, I will turn 30. That would be my last big contract and a final opportunity to try something different." – he said. But where does his future really lies?
The attacker is currently out injured after tearing a cruciate ligament in the DFB Pokal final against Eintracht Frankfurt. Initially expected to return in January next year, Reus postponed his return till March 2018, as he hopes to become fully fit for the next year's World Cup, which, ironically will be his first ever World Cup.
Considering the fact that he's still interested in four or five clubs, at least two or three could be from the Premier League, given the other two are presumably Real Madrid and Barcelona. While a move to Barcelona seems unlikely in the coming years, Manchester United, Chelsea and Arsenal and even Liverpool were strongly linked with Marco Reus for a long time now.
Currently recovering from his lack of fitness, Marco Reus is known for his loyal nature, which is why he is loved by almost all sets of fans all over the world. Despite a series of interest, Reus chose to stay at Dortmund after initially arriving at the club back in 2012. However, judging by the emotional nature of his mentality, Reus would love to rejoin with Jurgen Klopp at Liverpool.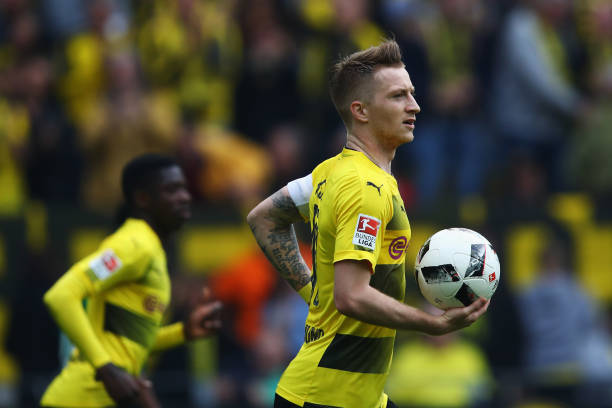 It's obvious that Borussia Dortmund are undergoing a massive transition phase at the moment. New coach Peter Bosz has tried to usher in the new, by getting rid of all the old guards of Dortmund, which was reflected by the departure of Sven Bender and the lack of playtime for Neven Subotic this season. Therefore, Marco Reus' importance wouldn't be as paramount as it was before under Jurgen Klopp.
As for other Premier League clubs, a move to Manchester United is highly unlikely. The Red Devils have an influx of talented wingers, with Jose Mourinho setting his sights on Antoine Griezmann next summer. Chelsea and Arsenal, however, could be a likely destination for Marco Reus.
Chelsea can offer regular Champions League football for they have established themselves as a top Premier League side. While Arsenal are desperate to sign a quality attacker following the possible departures of Alexis Sanchez and Mesut Ozil. Liverpool on the other hand, are kind of doubtful with their Champions League pedigree at the moment. The Reds have failed to consistently place themselves among England's elite but an uprise in form could turn the tables right away.
All things considered, Liverpool seems the most logical destination for Marco Reus, should he leave the Signal Iduna Park, which, in turn, is pretty much doubted. And even if he leaves, he is likely to see out his current contract at Dortmund which runs until 2019. So whether or not will Liverpool want to sign a 30-year-old attacker is doubted too.
But one thing's for sure, Marco Reus oozes class, and missing out on someone of that calibre is not something you wanna do.