Liverpool will have a hard time convincing Emre Can to stay at the club next season, with potential suitors such as Manchester United, Chelsea, Juventus all vying for his signature. The midfielder is out of contract next season and is yet to confirm where will he move next summer.
Liverpool, having already signed RB Leipzig star Naby Keita, further signals Can's departure from Anfield. Jose Mourinho was, in fact, interested in the services of the German International this summer and as per, latest reports from Transfer Market Web, Manchester United are still keen on signing the midfielder on a pre-contract agreement in January.
Emre Can has been one of the most improved midfielders in the Premier League for the past 12 months or so. The German International found decent success plying his trade at the centre of the pitch for Jurgen Klopp. Initially starting as a central midfielder alongside Jordan Henderson and Philipe Coutinho, Can offered much more to Liverpool than just using his physical presence to break up the play.
Make no mistake, Emre Can is a valuable asset for Liverpool. The 23-year-old is an all-around midfielder, who can not only screen the backline but also has the ability to start up counter attacks. His stunning physical abilities is often be taken for granted. Can is definitely one of the most solid midfielders in the Premier League and by far the best Liverpool have at the moment.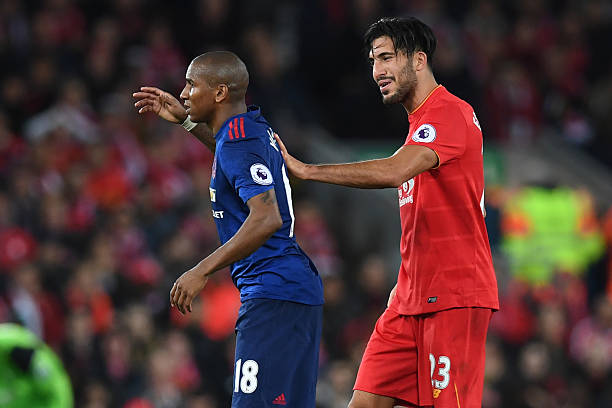 His deep-lying playmaking qualities offer Liverpool some extra punch in the attack while his huge figure can be intimidating for the opposition.
Can's all-around midfield qualities are reflected in his stats for the season. He has averaged an impressive four defensive actions per game, more than any other Liverpool midfielder. The Reds are also strengthened by his decent playmaking qualities. Aside from making more than one interception per game, Can has also created seven chances in five games for Liverpool this season, which is more than expected of a holding midfielder.
Manchester United can certainly use his all-around abilities to good effect. However, one would argue that the Red Devils already have a host of talented midfielders in their squadron. Ander Herrera, Michael Carrick, Paul Pogba, Nemanja Matic and even Marouane Fellaini, are all midfield all-rounders, who can help their team both offensively and defensively.
Therefore, a move to fierce rivals Manchester United is more than unlikely for Emre Can, and impractical as well. Given, a number of clubs interested in his services, a move to Serie A will be a much more logical move for the 23-year-old. The Italian champions are looking for a young midfielder, who can partner alongside Miralem Pjanic and Sami Khedira at the centre of the park and thus, Emre Can makes perfect sense for the Old Ladies.
[Stat courtesy: Squawka]