Manchester United have opened their radar to Everton youth prodigy Beni Baningime, with the player running out of contract next summer. Everton are poised to offer a new deal to the holding midfielder, who signed a professional contract with a club just a year ago.
At the age of 19, Beni Beningime is making quite a stir in the English youth divisions. The Congo-born midfielder had shown his glimpses in the Premier League 2 last season, where Everton seized the title. However, the CDM has become important for the Toffees' U23 squad this season as they hope to successfully defend the title. He has already featured in six games so far, compared to last season's tally of 11 games.
A tall and strong midfielder, Beni can be quite devastating at the centre of the pitch. Coach David Unsworth has compared him to the Chelsea midfielder N'Golo Kante and there's no wonder why Manchester United are keen to land this youngster from Everton.
The next couple of months could be vital for Beni's career, as he looks to impress even more in the youth league whilst finding himself a new contract at either Everton or somewhere else.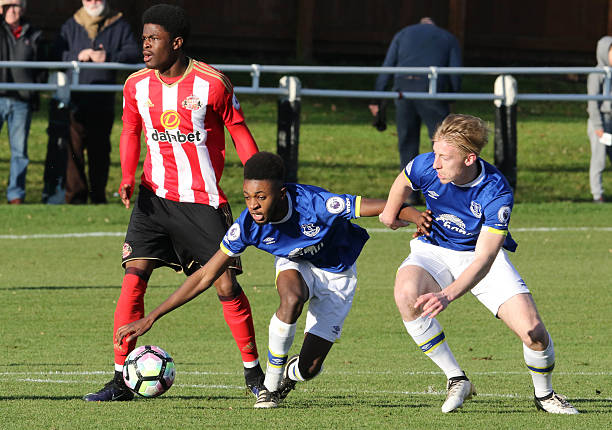 The Red Devils' youth academy has nurtured the likes of Marcus Rashford, Jesse Lingard, Fosu-Mensah in recent years, and they will look to continue the same path by signing this highly rated youth talent from Congo.
However, the 19-year-old will initially look to make a breakthrough to the Everton's senior squad, following the paths of Tom Davies. Everton themselves could use some proper defensive backup in the shape of Beni Baningime, and it could be very likely under coach Ronald Koeman, who is known for giving youngsters a chance to shine in the top flight.
Beni even won the Keith Tamlin award last year which recognizes upcoming talents at the club and Manchester United will be well aware of his credentials, so they'll want to keep their eyes on the development of the Congolese midfielder.
It's enthralling to see more and more young talents trying to make their mark in the Premier League which only bodes well for the league itself for it being lost when compared to the youth production of Bundesliga and the Laliga.
If Beni Baningime can keep his development nose-dive intact, he can well and truly be the next youth talent to make a mark in the pronounced best league in the world. Can he do it at Old Trafford?