The end of the current campaign will probably see Arsenal lose two of their most prized assets in the form of Alexis Sanchez and Mesut Ozil on free transfers. To add insult to injury, the two superstars might not even leave the country and instead join up with Arsenal's domestic rivals.
It is widely known that Manchester City are really interested in snapping up the Chilean winger and now the latest rumour doing the rounds is that Manchester United boss Jose Mourinho is keen to reunite with Mesut Ozil next season.
Ozil's current deal expires at the end of this season and any talk regarding his contract extension has come to an impasse. This sets up an ideal opportunity for the Portuguese manager to lure away Ozil to Manchester United.
The two have previously worked together at Real Madrid where Mourinho showed great trust in the German playmaker. Ozil was the chief ball player behind the 'shadow' team of Real Madrid in the 2011-12 season, winning matches by producing lightning-fast counter-attacks.
The two have parted ways since but have remained on good terms and as long as Ozil does not sign an extension with the Gunners, Mourinho will definitely be keeping an eye out on the situation at the Emirates.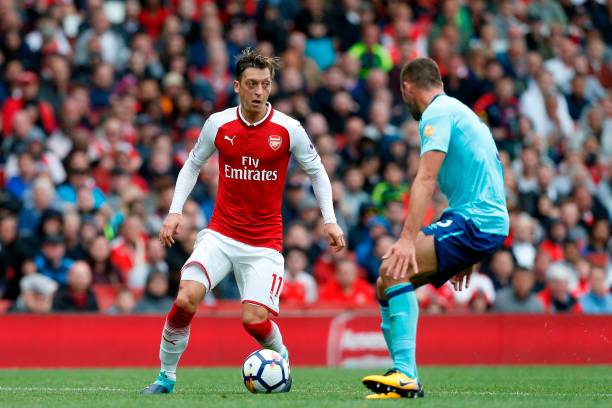 Ozil moved to Arsenal in the summer of 2013 for a reported fee of £42.5m. In his four years at the club, Ozil has racked up 32 goals and 57 assists in 166 appearances and has gone to lift the FA Cup thrice.
Although he has been accused by fans and media of going missing in big matches, he still remains one of Arsenal's primary playmakers and it remains to be seen how Arsenal cope without him.
If Ozil were to join Manchester United, he would certainly find it difficult to break into the first team. At the time being, it might seem that it will be tough for the German to break into the starting eleven as his ideal position would be the number 10 role. It is highly probable that Mourinho might need to return to his favoured 4-2-3-1 formation to fit in Ozil. Manchester United would be immensely difficult to stop if Ozil played ahead of a Pogba-Matic axis and has the likes of Lukaku, Rashford, Martial and Mkhitaryan ahead of him.
Given Arsenal's current predicament and Wenger's uncertainty about his own future at the club, it looks unlikely Ozil will put pen to paper on an extension anytime soon. Should the five-time German player of the year decide to move, joining Mourinho's Old Trafford revolution would seem the best-fit opportunity for him as he knows the league and the manager inside out by now.