After facing Chelsea in the 3-3 draw in the latest matchday of the Champions League, Radja Nainggolan has hinted that he wouldn't mind playing in the Premier League as he adores the teams, stadiums and the atmosphere. "Yeah it's a good league. Beautiful stadiums, good atmosphere in the stadiums but at the moment my head is only there." (hinting at Roma), he said after the match against champions of England.
Conte admires his style of play and says he is one of the best midfielders in the world. He has been a Chelsea target for a long time now but the Red Devils too reportedly, are behind him.
Nainggolan started his youth career with Germinal Beerschot and then moved on to Piacenza in 2005. In the 2006 season, he was included in the senior team. In 2010, he made a permanent transfer to Cagliari after being loaned out initially. After making 17 appearances for Roma on loan, he put pen on paper with a permanent deal that has seen him play there since.
He has featured in 170 appearances and scored 28 goals. For Cagliari, he netted 7 out of 137 times. At an early age in 2009, he earned his first Belgium cap. However, he scored his first goal in 2014 against Ivory Coast. In 29 appearances, he has scored on 6 occasions for Belgium.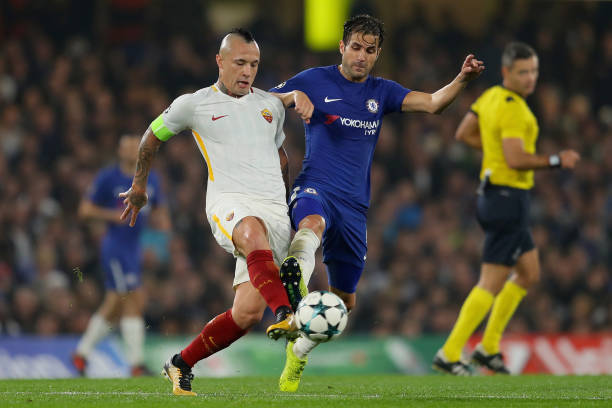 He is an extremely versatile midfielder and can adapt to various formations. He can play a box to box role and can get into advanced goalscoring positions with equal ease. He is a master in making disguised runs into the box.
Also to mention, he is a natural ball winner and is aggressive in chasing people down. He is good with through balls and is exceptional in creating chances and playing long balls. Lastly, he has a deadly right foot which can strike a long ball.
Manchester United have Pogba, Carrick, Herrera, Fellaini and Matic who are all pure quality in their roles. This is a diverse midfield with all of them being different types of players and different roles to play.
On the other hand, Chelsea lost on their most important players in Matic. They have Bakayoko, Fabregas and Kante in their ranks. Danny Drinkwater too, is yet to come back to full fitness. With Fabregas in his 30s, Drinkwater already 27 and Kante having too many responsibilities on his shoulders, Chelsea should be ahead in the race.
With Conte's system too, Nainggolan will have a better outing at Chelsea whereas United have a set game plan with their defensive midfielders – Pogba having a free role and Matic protecting the back four. Nainggolan seems a better fit at Stamford Bridge but can Chelsea fend off interest United and sign him up?