Pep Guardiola's arrival in the Premier League sparked a lot of optimism among the Man City fans, and largely, huge expectations from the world of football. Everyone thought the Premier League to be the final test for Pep to prove his credentials as the best manager in the world. However, the Catalan struggled to dominate the Premier League in his first season and fell short of Chelsea at the end. What followed, was a wave full of criticism for the former Barcelona manager.
But Guardiola is doing his best to falsify the critics as it seems as his Manchester City side are off to a flying start to the Premier League campaign. Already winning six of their seven matches, here are three reasons Manchester City are genuine title favourites this season.
Glorified Squadron
Pep Guardiola suffered from lack of depth in his first season at the club. However, the Sky Blues did a tremendous job of stripping out all the unnecessary players and buy some glittering prospects in European football. The squad looks much more complete this season, with the manager having depth in every area of the field.
Both Sergio Aguero and Gabriel Jesus are proven goalscorers and we already saw how dangerous it can be when the two play together. Although Aguero suffered a tragic car accident in Amsterdam, Jesus looks to be in fine form. They also have depth in defence and midfield as well, which was the main reason for his success at Barcelona and Bayern. The quality that his group players possess is unrivalled in the Premier League, and if gelled well, there will no doubts over who's gonna win the title this season.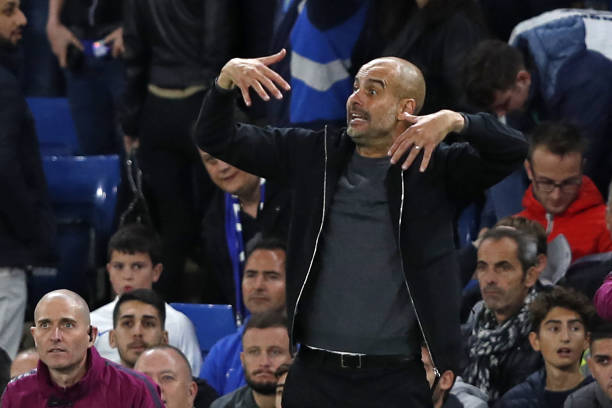 Blistering Attack
Attack, attack, and attack! This has been the Pep's mantra for his teams over the years. Pep is no doubt an attack-minded coach, and his attack-minded approach is reflected this season with Manchester City scoring goals at will. The Sky Blues have already netted 22 times in just 7 games, more than three goals per match, which is obviously the best in the league this season.
Sergio Aguero and Gabriel Jesus have been the two main pillars of their attacking dominance so far. But not only are the strikers performing, Raheem Sterling, Kevin de Bruyne and Leroy Sane has also been a key part of that fluent offensive system for Pep Guardiola's system.
Strong Defense and Fullbacks
Manchester City, by far has the most talented crop of fullbacks in their roster right now. Kyle Walker, Benjamin Mendy, and Danilo are three world-class fullbacks who can make the difference despite playing at the backline. Mendy has quickly made his mark in the Premier League while Kyle Walker also impressed in the last few matches. Danilo remains an option too, with Fabian Delph also coming into the fray, after Mendy's injury.
For a team which relies so much on its fullback, it's really good to have these talented players creating a core from the wide areas.
Solid defence has also been a reason for their success this season. Along with Manchester United, City have conceded the least goals in the Premier League with just two goals. At this time, last season, City had already conceded seven goals, which shows just how much the defence has improved this season.
Overall, Pep Guardiola has a solid combination of talented players from attack to defence. If they can keep up their momentum, it's only a matter of time before they lay their hands on the title. A 1:0 over Chelsea further showed their dominance in the Premier League this term, and it might all come down to the Manchester derby this December.