Manchester City went into this game flying high and full of confidence. They were coming off the back of a midweek Champions League win against undefeated Serie A side Napoli.
They are also undefeated in the Premier League. And in their last league game, they put seven past Stoke City. So, given that City are top of the league and are on a great run of form, it was excepted they would dominate Burnley.
For the most part, that was what happened. The first half was dominated by Manchester City. Burnley had very few chances and if not for a couple of good save from Pope, City could have been 3-0 up at the break.
The second half also saw City dominate and Burnley defending very well. Until the 73rd minute when Otamendi scored Manchester City's second from a corner. Sane got the third moments later and that was game over. Not the best display from City but another win and a clean sheet for Pep's men.
Here are the Manchester City player ratings from their win over Burnley.
Ederson: 6/10
Ederson made a good save on 15 minutes to deny Chris Wood and Arfield. The Brazilian had a very quiet second half and was not forced to make a proper save.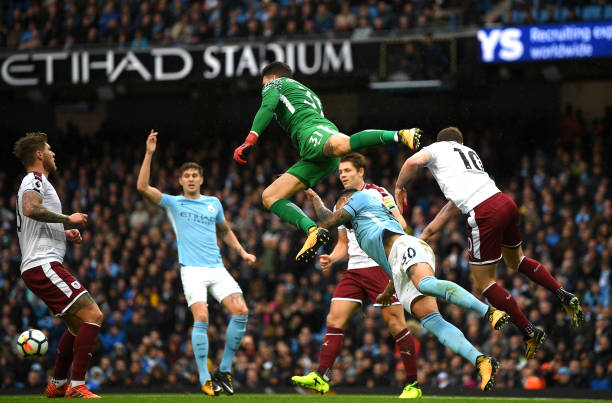 He did well with the little he had to do today.
 Kyle Walker: 7.5/10
Walker was perhaps the quietest player on the pitch for City in the first half, except for one or two poor crosses.
Walkers attacking play improved somewhat in the second half. He whipped a good ball across the Burnley box in the 60th minute. But Aguero was unable to connect properly.
He linked up well with Bernardo Silva and was a real attacking threat in the second half. Walker also had little to do defensively.
 Nicolas Otamendi: 8/10
Otamendi had little to do in the first 45 and managed to keep Burnley largely quiet.
Otamendi had a more active second half. He put City 2-0 in the 73rd minute with a powerful header from a corner. He also helped keep Barnes quiet and made sure City kept a clean sheet.
John Stones: 7.5/10
Stones like Otamendi had very little to do in the first half. The little he had to do, he did well though.
Stones passing was also decent in the second half. He started several City attacks with some good long balls/ through balls. And he also kept Burnley very quiet going forward.
 Fabien Delph: 7/10
Once again, Delph had a solid game at left back. He didn't have much to do defending-wise. But he and Sane did link up well and he didn't really do anything wrong today.
 Fernandinho: 7/10
Fernandinho had a solid first half. He won the ball back several times for City and broke up one or two counter-attacks.
He continued to do a solid job both defensively and offensively in the second half for City. Until he was subbed off in the 78th minute.
 Bernardo Silva: 7.5/10
Silva had a really good chance to give City the lead on 22 minutes when Sane squared it to him. He picked it up near the penalty spot. But he put it straight at the keeper and probably should have done better.
Silva then did well to react to Pope not being fast enough to clear the ball. He took it away from the Burnley keeper who subsequently fouled him and gave City a penalty.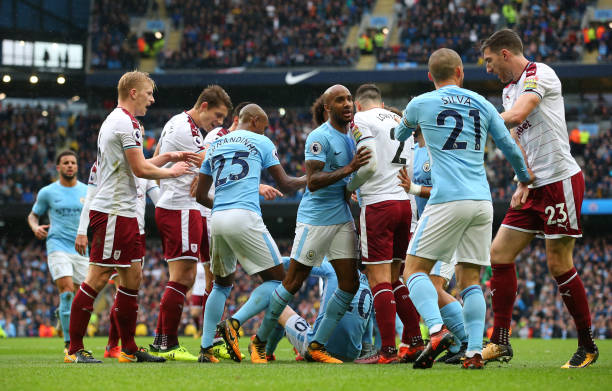 Overall his passing was solid all game, he linked up well with Walker down the right and he created a few chances.
 Kevin De Bruyne: 8/10
De Bruyne started off well cutting in from the right on six minutes and getting a shot at goal. He then got put through on 27 minutes and forced a good save out of Pope.
De Bruyne then played an excellent ball to Sane on 74 minutes who scored to make it 3-0.
The Belgium didn't have the most exciting game. But he did control the game well and his assist was superb.
David Silva: 7/10
Silva played a great through ball to Be Bruyne on 27 minutes who unfortunately didn't score.
The Spaniard then scuffed a shot wide in the 55th minute when he probably should have played Sane through. Silva then picked up the ball inside 8 yards of the Burnley goal. He did well to get a shot off. But Burnley defended well.
Not the worst performance from Silva. But he is certainly capable of better.
 Leroy Sane: 9/10
Sane did well to link up with Silva and play a good pass to Bernardo Silva on 22 minutes who should have done better.
He also scored City's third after picking up the ball from a great KDB pass, he controlled it well and slotted home past Pope.
Sane also whipped in a great corner which Otamendi connected with for City's third.
The German was a constant threat down the left for City. He was a nightmare for Burnley's defence; he was too fast for them, to skilful for them and maybe could have had a second goal as well as his goal and assist. Sane was probably City's best player today.
 Sergio Aguero: 7.5/10
Aguero had a quiet first half hour until he put away his penalty in the 29th minute. Aguero then had another good chance on 42 minutes which Pope saved well. He then powered a shot at Pope in the 46th minute who pulled off another good save.
Aguero played a cute ball to Sane on 71 minutes who played it to Silva whose shot was deflected.
The striker was then subbed off on 76 minutes. Aguero did well to convert the penalty and was denied more goals due to Pope's great keeping.
Substitutes
Gabriel Jesus: 5.5/10 (76th minute)
Jesus didn't have much time to make an impact when he came on. However, he still looked very sharp and caused Burnley a few problems in the short time he had.
Yaya Toure: 4/10 (78th minute)
Toure had very little to do when he came on. He did, however, give away possession in his half which saw Burnley get a shot away and win a corner.
Ilkay Gundogan: 5/10 (80th minute)
Gundogan also had very little time to make an impact. When he came on though his passing was decent and he helped City maintain their 3-0 scoreline.