According to trusted news agency from Hamburger Morgenpost, Premier League leaders, Manchester City are interested in the services of Hamburg winger Tatsuya Ito. The Japanese sensation has caught the eye of many scouts with his blistering form of late, and with his contract expiring at the end of this season, Ito is slowly becoming to be a real talk in the transfer market.
Although Hamburg are trying their best to ward-off interest by offering him a new contract, almost half of the Bundesliga clubs are also keen on signing the Japanese attacker.
The 20-year-old has been tipped to have a bright future ahead of him and there's no surprise that Manchester City are keen to acquire his services next season.
Ito has been a part of the Hamburg youth academy since July 2015 but he made his first impression into the senior side earlier this season. The injuries to Filip Kostic and Nicolai Muller aided the 20-year-old in breaking through to the first team. However, Ito didn't waste away his chances as he successfully managed to retain his position in the team despite the return of Filip Kostic.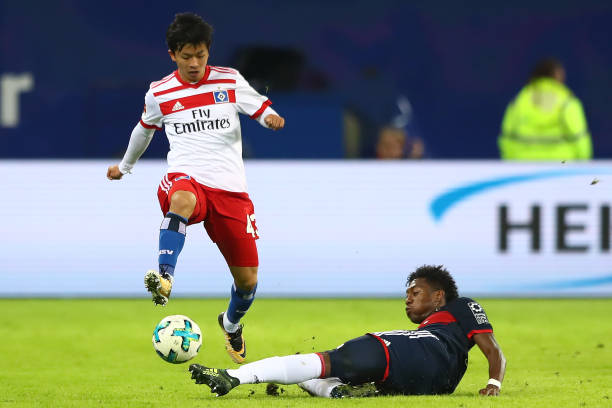 Always calm and composed with the ball, Ito could easily be drawn into a comparison with fellow Japanese superstar Shinji Kagawa. Despite being a winger, the 20-year-old often likes to use his creativity and movements to aid his team from the central zones.
He may not be the tallest individual on the pitch but standing at just 1.63m, Ito's lack of height actually helps to retain his balance in the final third. It particularly helps to him to scour the defensive line of the opposition or to get past the defenders without having much difficulty.
Furthermore, Tatsuya Ito has a useful knack of scoring goals. He is blessed with a great footballing mind when it comes to the attacking department. He is always on the lookout for that elusive run, which often leads him to great scoring positions.
However, the Japanese youngster lacks all the physical abilities required to thrive in the Premier League, therefore, Manchester City should instead pursue on other targets or perhaps loaning him back to Hamburg after securing his services. Ito greatly needs to improve on his physical traits if he wants to flower in the rigors of the Premier League and playing in the Bundesliga for a few more years could massively help his overall fitness level.