Yet another day and Glasgow Ranger have been linked to yet another player. This time reports suggest that Pedro Caixinha's team is looking to bring in Hibernian FC midfielder John McGinn.
John McGinn joined Hibernian in the summer of 2015 after coming through the youth ranks of St.Mirren where he made 98 appearances for the club and scored 4 goals in the process.
McGinn's development continued at Hibernian and the central midfielder has gone on to make 103 appearances for his new team, scoring 13 goals in the process. McGinn is now also a Scotland international and has already been capped four times by the national team. At the age of 22, things are looking good for the Scot.
McGinn has done no harm to his reputation, after scoring twice against Celtic last time out and may have raised his market price high up. Mcginn himself is a fan of the Hoops and scoring against his boyhood club to impress the opposition scouts and manager is dream come true for the young Scot.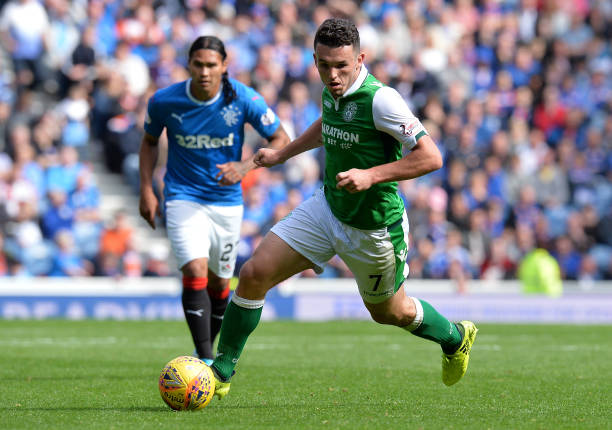 As his price continues to soar, McGinn's transfer value may have gone well beyond Rangers' possible reach. Hibernian boss Neil Lennon admitted on television that the club rejected a bid of £750,000 from Nottingham Forest. The club rates the player as someone with a bright future and values the midfielder near £5m.
Such an amount is surely going to put off the Bluenoses who, even if they want the player, are unlikely to be able to cough up such a huge amount for a single player in the January transfer window.
Add to this the fact that Pedro Caixinha wants to continue his Rangers' revolution by bringing in more players makes the possibility that Rangers will actually pay £5m for one player is highly unlikely.
The final nail in the coffin and the ultimate salt to the injury would be the fact that Celtic has also shown interest in the young midfielder. Celtic are in a far better financial position to pull off such a transfer and if McGinn is to be given a chance to choose between his boyhood dream club and Pedro Caixinha's Rangers revolution, it would indeed be an easy one to make for the Scot.
Exactly how much would Celtic need him given the fact that Brendan Rodgers already has Scott Brown, Olivier Ntcham, Stuart Armstrong, Eboue Kouassi, Kundai Benyu, Callum McGregor and Tom Rogic vying for midfield spots remains to be seen.
However, this seems like a transfer Rangers would be unlikely to complete and they should instead focus their attention on more amicable targets especially players who are not boyhood fans of Celtic or are being sought by Celtic for a transfer.