In a crazy transfer market, backed by the Everton board, Ronald Koeman brought in an arsenal of summer signings that saw Everton spend a net amount of £142.38m. Tipped by many to challenge the 'top six', Koeman's side was expected to fight for a European spot this time. Seven matches into the season and Everton are languishing at the bottom half of the table with seven points from as many games.
They have just collected one point from their four big matches against Chelsea, Manchester City, Manchester United and Tottenham Hotspur, with the 1-1 draw at the Etihad the only positive result. While the results itself do not create much of an issue, it is the spineless nature of these defeats that have left the Everton fans fuming.
Everton shipped in 9 goals in their three matches against Manchester United, Chelsea and Tottenham without reply. Add to this their latest defeat against Burnley this weekend following up on their below-par displays in Europe, and Koeman's job suddenly does not look very safe.
The latest reports in Italy seems to be suggesting something along similar lines, as ex-Watford manager Walter Mazzarri has emerged as a candidate to replace Ronald Koeman at Everton. The Italian will reportedly be contacted over the next few days by Everton should Koeman be sacked as the manager of the club.
]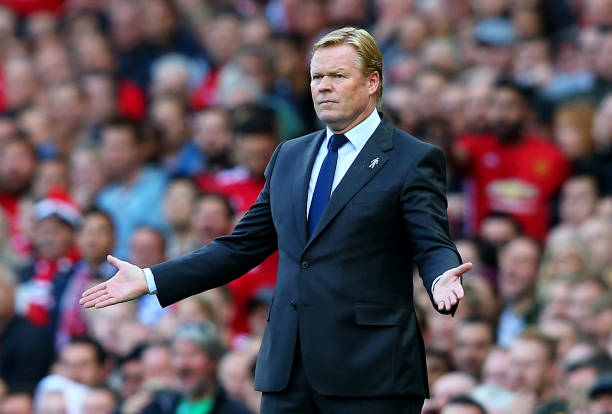 Koeman, who led Everton to a 7th place finish last season, is defiant of his chances of survival at the club despite growing pressure. He has been in the Premier League for over three years now and in his first two seasons, he led Southampton to a seventh and a club-record sixth place finish respectively.
Mazzarri has previous Premier League experience having led Watford last season before being fired at the end of the season by the trigger-loving owners of the club. He is popular primarily for his four-year spell at Napoli where he led the club to regular Champions League positions, won the 2012 Coppa Italia by beating an undefeated Juventus and knocking Manchester City out in the group stages of the 2011/12 Champions League.
His 3-4-3 formation saw the development of three world-class players in the form of Edinson Cavani, Ezequiel Lavezzi and Marek Hamsik and the deadly attacking trio helped Napoli get their best campaign in over 20 years in the league by finishing in second place, just behind Antonio Conte's Juventus. Mazzarri left the club for Inter Milan, where he was sacked within a few months after a string of poor performances.
While Koeman's record does guarantee him a little more time to prove his worth in the club; should he fail to change Everton's fortunes, Mazzarri seems like an unpredictable gambit to take given, his inconsistent stints as a manager in different clubs. Can he better Koeman at Everton?