In modern football, there are two names everybody knows, Cristiano Ronaldo and Lionel Messi. For the past 10 years or so they have been the pinnacle of football and the two players who have fought it out for the title of best player in the world.
However, with both players getting on in years, Ronaldo 32 and Messi 30, their time at the top of the mountain will be coming to an end sooner than any football fan would hope. With this in mind, the departing of the two greatest footballers in the modern era will leave a spot open for one young star to claim.
One man who could be worthy of the spot is Harry Kane. Obviously, Harry Kane is not up there with Ronaldo and Messi yet. But Kane is only 24 and has only actually had three full seasons as an established Premier League player, so there is still plenty of time for him to earn the right to be called the best player in the world.
One of the main reasons Kane could well be on his way to becoming the best player in the world is his prolific goal scoring. Kane's first run in the Premier League came at the back end of the 2013/14 season. He made 10 appearances', scoring three and assisting two. But it was in the next season Kane really started to shine.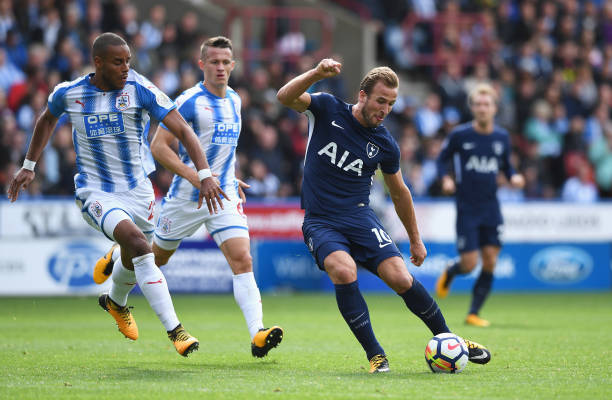 In the 2014/15 Premier League season he made 34 appearances and scored 21 and the season after, he scored 25 in the league. However, it was last season that really cemented Kane as one of the best players around today. In the 2016/17 season, Harry Kane played 30 league games and scored 29 goals. An absolutely ridiculous record for someone who isn't Messi or Ronaldo.
To put Kane's goalscoring record into perspective last year, second top scorer in the league was Romelu Lukaku. He managed 25 league goals in 37 appearances. That's four fewer goals in seven more starts. It was also nine more than Sergio Aguero who played 31 league games and scored 20 goals.
And while you may argue that while Kane's stats prove he is perhaps the best Premier League forward, it does not prove he can compete with the likes of Messi and Ronaldo. Well if that is the case, you should look at Kane's goals scored so far in 2017.
In 2017 Harry Kane has played 31 club games in all competitions and scored 36 goals. A superb record on its own. And when you compare it to other, top forwards around Europe, it looks even better. For example, Robert Lewandowski played 34 and scored 35, Ederson Cavani played 38 and scored 36 and Pierre-Emerick Aubameyang played 35 and scored 33.
This shows Kane is arguably the best striker in Europe as he has scored the most goals in the least games compared to all the other top forwards around Europe. What is most astonishing though is the fact that in 2017, Harry Kane has scored more goals than Cristiano Ronaldo. Ronaldo scored 31 in 34 games for Real Madrid this year so far.
This shows that Kane could be well on his way to becoming one of the all-time greats. Because he is already outscoring the likes of Cristiano Ronaldo and doing it in fewer games.
As for Lionel Messi, he is the top scorer in 2017 bagging 45 in 43 for Barcelona. This is clearly more than Kane but Messi has also played an extra 12 games than Kane. Plus when you take a look at the pair's goal to game Ratio, it is Kane who comes out on top with a 1.16 compared to Messi's 1.05. So, you could well argue that if Kane had played as many games as Messi he would have scored more.
Another point in favour of Kane becoming one of the all-time greats is that he is outscoring and earning a better goal to game ratio than Ronaldo and Messi while playing for Spurs. Granted Spurs are a solid team and have players like Christian Eriksen and Dele Alli supporting Kane. But Spurs are nowhere near the level of a Barcelona and Real Madrid.
Therefore, you could argue that if Harry Kane was to play for one of the best teams in the world such as Madrid and Barca then he would be scoring, even more, goals than he is now. Spanish giants Real Madrid have shown some interest already in Kane and if he were to move there, perhaps at the end of this season, Kane's goal tally would be frightening. Especially when you think that he would have the likes of Isco, Marco Asensio and Gareth Bale behind him.
Regardless of where he ends up, Harry Kane is arguably the best striker in the world today and if he keeps up his excellent goal scoring, he can put that argument to bed very soon.