Barcelona captain Andres Iniesta has signed a so-called 'lifetime contract extension' with the club, which will keep him at Barcelona for the rest of his career.
"I think the good news will arrive soon," Iniesta was quoted as saying by Mundo Deportivo after being asked about a contract renewal last week and it seems the good news has finally come.
The 33-year old has flirted with a new contract extension with the club for a long time now. Last month, after being asked to confirm the agreement with Barcelona over a new contract at the El Prat airport, Iniesta clearly dismissed the rumor with a resounding 'NO'.
With Juventus reportedly keen on signing for free next summer, the new contract extension will definitely rule out any further interest for the midfielder. Therefore, it could usher in some good fortunes both the player and the club.
Despite his age, Andres Iniesta has been a key part of this Barcelona team under Ernesto Valverde. While players like Andre Gomes have failed to make a significant impression, playing for the first team, Iniesta was shouldered with a lot of responsibilities.
The 33-year-old is being used as a crucial first team player under the new coach. Although he may not be the same force as he was a few years back, Iniesta still packs a lot of punch in midfield for FC Barcelona. Unlike his role under previous managers four-five years ago, Andres Iniesta evolved as more of a midfield string-puller rather than a creative force.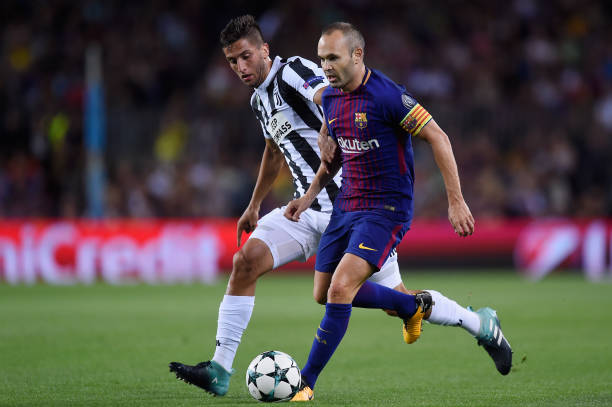 It's fair to say, that the Spanish International has embraced the role of his former teammate and club legend Xavi as the transition man in midfield. Iniesta uses his long-range passing abilities and slick on the ball movements to relentlessly circulate the possession in the middle of the park and occasionally, switch the play to offer space for his teammates.
Despite playing in a much deeper role, Iniesta has still managed to acquire 1.4 key passes per 90, which is only bettered by attackers Lionel Messi and Gerard Deulofeu. His passing accuracy has remained all the same as well, with a stunning 91% completion rate.
Coach Ernesto Valverde has been very smart in utilizing the talents of Iniesta this season, which is the reason we see him starting most of the games. Both Denis Suarez and Sergi Roberto have looked quite promising and both can make an instant impact after coming on later in the game.
And it's worth noticing that Iniesta has featured in six games in the Laliga this term, and was subbed off in all of the six matches. So, it seems a very well measured plan to use Iniesta's abilities till the hour mark, before introducing some quick fire players like Denis Suarez and Sergi Roberto to make an instant impact.
Andres Iniesta has, indeed, been a key player for the Catalans this season and his presence at the centre of the park significantly improves Barcelona's overall game and the new contract extension clearly does justice to that!
[Stat courtesy: Squawka]