Chelsea are rumoured to be one of the few clubs looking at young Spanish striker Gurka Guruzeta. The 21-year-old stems from Athletic Bilbao's Basque-only youth department and currently plays for Bilbao Athletic, which is the reserve/U23 team for La Liga outfit Athletic Bilbao.
Guruzeta finished last season with four goals in his final six league games, in the Spanish third tier. He has also been in fine form this season as well. However, his contract expires at the end of the season, meaning he could be available for free next summer.
But will be properly fit into the Chelsea's attacking setup? Here's a SWOT report on the Spanish attacker targeted by Chelsea and Spurs.
Strengths
Gorka Guruzeta is compared to veteran striker Aritz Aduriz back in his hometown. He is a typical Spanish forward blessed with great technical abilities as well as having a knack for tracking back and help out his defence.
Guruzeta also has a remarkable physique. Standing at 6ft 2inches, the 21-year-old can easily make use of his body to gain an advantage in the penalty box. He is an accurate and powerful header of the ball. Furthermore, his link-up play is at a high level as well, as you would expect from any Spanish player.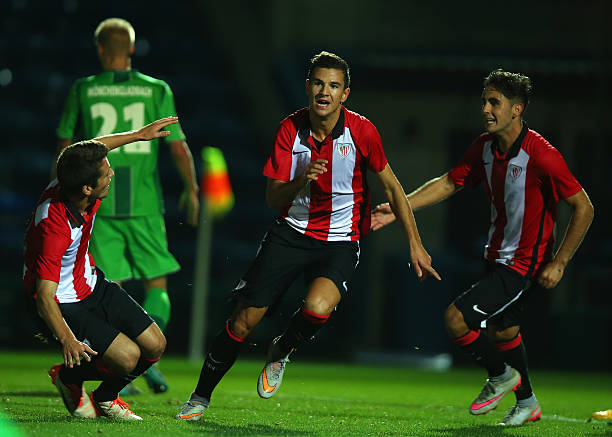 One of the most impressive features for the young Guruzeta however, is the fact that he can across any position in the offensive line, which, despite being a norm at Bilbao, can prove to be very useful later on, in his career.
Weaknesses
One of the things which have held back the promising forward from further developing is his lack of consistency. In the past, the 21-year-old hasn't been consistent enough in front of goal. However, he is improving on that score and currently looks more consistent than he ever had been in his career.
He also needs to work a little on his pace and cleverness in the final third. While he may possess a certain amount of attacking belligerence, Guruzeta needs to be much agiler in order to keep the opposing defences occupied throughout the game.
Opportunities
Gorka Guruzeta will join fellow compatriots in Alvaro Morata, Cesc Fabregas, Marcos Alonso and Cesar Azpilicueta should he opts to join Chelsea in January. The Blues were criticized not to strengthen their depth in attack this summer and therefore, his arrival could prove to be a perfect match for both the player and the club. In fact, he also got right temperament and playing style to thrive under Antonio Conte's tactical ideology.
Threats
Lack of experience definitely remains a key threat for his transfer to Chelsea. The 21-year-old is yet to be rewarded a promotion into the first team of Athletic Bilbao. Thus, he has never tasted first-team football. His lack of experience surely won't help the attacker to get used to top-flight football, especially in the rigours of the Premier League.