Marouane Fellaini – the famously revered star of Manchester United, who wasn't quite a star a few years back. Far from it in fact. Often being jeered, booed and despised by his own sets of fans, Fellaini's career at United has seen a notion of drama, hatred, and intimacy even.
But it wasn't always the same. Since his move to Old Trafford in the summer of 2014, Marouane Fellaini's move to Manchester United can be deemed as a success – in its own, unnatural, Fellaini way. The midfielder, often being termed as the symbol of the post-Ferguson era – which is, of course, the dark years of United in the living memory – has been completely rejuvenated under current boss Jose Mourinho.
"Just how important is Marouane Fellaini to Manchester United?" – "A lot more important than you can imagine" – Jose famously scuffed when he came to know about his unavailability before their CL clash against Basel.

"I feel weaker without Fellaini in my squad, doesn't matter if it's on the pitch or on the bench. I need him." – he also said, in the same interview.
So, what is all this notion with Marouane Fellaini and why is he even playing for Manchester United still? We all know how terrible he is, right?
Right. Fellaini is perhaps the most underrated player in Manchester United right now. He'll easily walk into the song of the unsung midfielders if ever there was one. That said, what does he really do which makes him so important?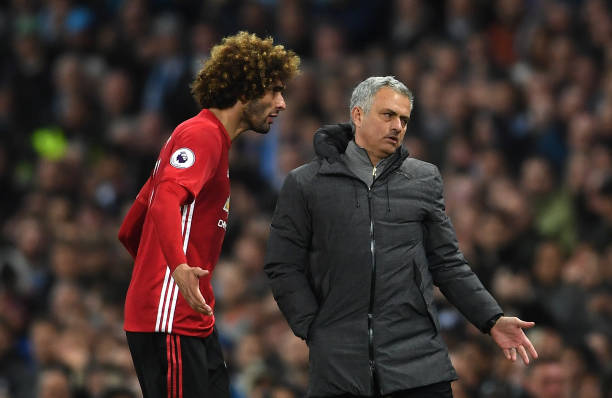 Marouane Fellaini has no technical qualities and his game is terribly one-dimensional. But he is best at what he does. He is an exceptionally handy player for any team to have in England.
Hardened by years of experience, Fellaini is likely one of the most versatile players in the Premier League. Whether as an emergency super-sub or a starting chauffeur in midfield – he can get used to any condition. Fellaini instantly makes an impact on the proceedings, especially as a sub.
He can be installed as an emergency forward – when the opposition defence becomes hard to break down. Thanks to superior aerial abilities, it's almost too difficult to mark him tightly, especially when you know he will win nine out of ten balls in the box.  It's a really handy asset which Jose has made full use of.
Furthermore, Marouane Fellaini can even be deployed as a central midfielder – if the opposition pushes up high. He can dominate the midfield with his physical prowess while the partnering midfielders can take care of the possession and ball-circulation. But either way, there are a few things he can absolutely guarantee when on the pitch.
First of all, he always guarantees a goal threat. In addition, Fellaini always becomes dangerous in set-pieces, whether attacking or defending, he can score or clear the ball using his rather intimidating figure.
He has made more appearances with every passing season since his arrival, from 21 in 2013/14 to 47 last term and it's clearly evident that he's becoming a more important part in this sensational Manchester United team under Jose Mourinho.
The Portuguese manager has done a brilliant job of identifying the Belgian's traits and use them to good effect – for which he should most certainly be praised.