Crystal Palace bagged all three points against Chelsea on Saturday, and in all fairness, it has to be underlined that it was a pretty surprising outcome, considering the scenario they found themselves in as they went into the game against the Blues.
Roy Hodgson's outfit were finding themselves in an absolutely shambolic position in the Premier League before they hosted Antonio Conte's men at the Selhurst Park, for they had failed to collect even a single point from their first 7 outings in the English top division.
The victory, however, would do a massive favour to the London based club. But given that finding the back of the net has been one of the major headaches for Crystal Palace, the January transfer window would undoubtedly be crucial for them to refill their armoury.
Apparently, one of the recent reports to have surfaced lately have stated that the Eagles are in the hunt to sign Red Star Belgrade's striker Richmond Boakye, with other Premier League clubs like Chelsea and Swansea City and Scottish outfit Celtic also keen to prise him out of Rajko Mitic Stadium.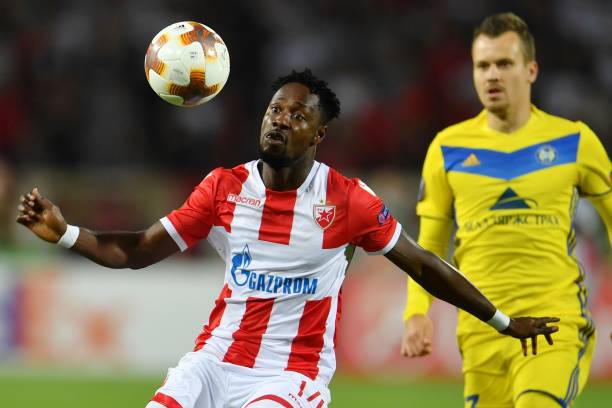 The Ghana international had been in the books of sides like Genoa, Juventus and Atalanta and his recent productivity with his current employers, the Serbian Super Liga side Red Star Belgrade has been attracting a lot of interest from the football fraternity for obvious reasons.
His experiences whilst his loan spells have enabled him to brush himself and his goal-scoring knack have certainly improved over time. So far this season for the Red-Whites, Boakye has smashed four league goals in 7 games, including his goal in Belgrade's 4-0 win over Macva Sabac this weekend.
The 24-year-old is a strong centre-forward who thrives on pace, power and exemplary first touch and his movements on and off the ball do trouble the opposition's defence. He makes a good use of his physicality and brings his teammates into the equation in the final third.
He is a smart forward who times his runs perfectly and looks to make the most of the opportunities which come to him. Boakye has been clinical so far this season and given his prolific predatory instincts up front, he is being closely monitored by top clubs.
Although he isn't a proven Premier League package, he could be an excellent addition for Crystal Palace, as he may offer a decent back-up to the London based club off the bench. He does have the credentials to succeed and it would be interesting to see whether Crystal Palace would seriously attempt to make him sign on the dotted line or not.