Godfred Donsah has evolved as one of the most exciting youngsters playing in the Serie A for the past 12 months or so. The Bologna midfielder, who is a subject of a lot of interest from Inter, Juventus, both the Manchester clubs and of course, defending PL champions, Chelsea, is poised to leave the club in January.
In fact, agent Oliver Arthur has recently hinted that Donsah could leave Bologna very soon. When asked about the same matter, Arthur replied, "Yes, I think it's possible".
Chelsea have lost their key midfielder Nemanja Matic this summer, as the Serbian left for Manchester United. However, with the acquisitions of Danny Drinkwater and Tiemoue Bakayoko, the Blues have managed to make up for that loss, a little.
Bakayoko has found life kind of difficult in the Premier League, which was even more evident in his performance against Manchester City. On the other hand, Danny Drinkwater is yet to make his Chelsea debut, and there are a significant amount of doubts on whether will be able to replace Matic or not. Therefore, head coach Antonio Conte might want to consider signing an apt backup in midfield.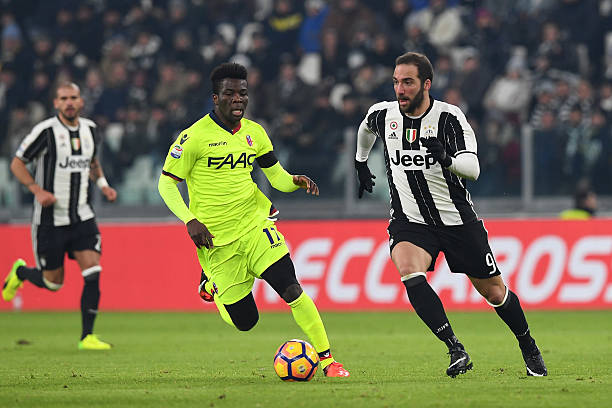 Godfred Donsah is compared to former Chelsea star Michael Essien. The Ghanian youth prodigy is very good in central areas of the pitch. He can control the midfield, by complementing his partners in the central areas of the park to prevent the opposition from taking control of the ball.
Just like Essien, Donsah is a midfield all-rounder. He scours the entire area of the pitch and keeps check of everything in between. He is particularly dangerous with his marauding runs forward, therefore he can more or less be compared to current Chelsea star N'Golo Kante. Donsah is fairly agile as well, which allows him to prevail in tight spaces.
However, there are a few question marks on his passing. Donsah has a passing accuracy of 74% this season. But his overall qualities on the ball are definitely better. Averaging one interception and three defensive actions per game whilst creating more than one chance per game, proves his all-around qualities in the middle of the park.
Make no mistake, Chelsea will be blessed to have an all-around talent as Godfred Donsah on their roster. The Blues could try to pursue the midfielder to move to Stamford Bridge in the upcoming January transfer window, which will surely bolster their already impressive squad. Although, Inter are regarded as firm favourites to land on the Bologna star.