Crystal Palace scored their first goal of the season and did not just stop there. The Eagles went on to register their first win of the season and they did it in some style. Hardly anybody expected anything but a Chelsea win but Palace, languishing at the rock bottom with 0 goals and 7 straight defeats, came flying out of the blocks to shock the defending champions.
Although Chelsea were missing star forward Alvaro Morata and midfield dynamo N'Golo  Kante and went on to lose right wing back Victor Moses to a first-half injury, it was still no excuse for the Blues to put in such a shocking performance.
The Blues took time to get out of the blocks and with Kante missing could never turn over possession fast enough, something their manager Antonio Conte was wary of when he admitted in the post-match press conference by saying that Chelsea lacked balance in their game.
Here are the ratings for the players:
CHELSEA:
Thibaut Courtois: 6
The Belgian shot-stopper could do little to save the first goal as it was an unlucky deflection but was beaten far too easily for the second one when Zaha whizzed past the Chelsea defence to fire in a low angled shot past the Chelsea custodian. He was tested throughout the match with Palace getting chances on counter attacks but had it relatively easy as the efforts were either tame or blocked off by the defensive line.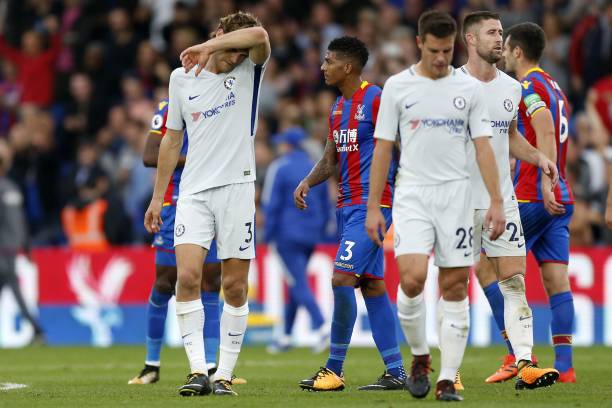 Marcos Alonso: 5
Unimpressive and unable to make a mark on the left wing. Could not find his usual link up play with Hazard and wasted crossing opportunities by dragging the ball far too deep into the Palace backline and eventually losing position. Defensively he had to team with Cahill to stop Townsend but fared poorly as the Palace winger turned both of them inside out on several occasions to cut in from the wings.
Gary Cahill: 5
Slow and lethargic on the ball. Was taken for a spin by Townsend whenever dragged wide to the left side of the defence. Used his strength well enough to win possession on occasions. Not a captain's performance by far, however, and Chelsea will look to Rudiger and Christensen to replace the ageing star.
David Luiz: 6.5
The only Chelsea defender who looked somewhat comfortable defending against the Palace attack. Repeatedly thwarted off Palace players using his physicality. However was unable to contain Zaha who floated in and out causing Luiz to miss out on his man.
Cesar Azpilicueta: 5
A rare poor display by the trusted Chelsea soldier. He was beaten for pace and strength by Zaha multiple times before he switched back and tried defending deep without much success. Without Morata to head in his crosses, he had no attacking contribution to the team.
Victor Moses: 5
Taken off in the first half with what looked like a muscle injury. His small time on the pitch meant he was not able to create much of an impression on the match
Cesc Fabregas: 6
Hopelessly outplayed by the Palace midfield, Fabregas looks like a player lost without Kante by his side. Although he did improve in the second half and put in some delightful balls first time, he was way too error-prone today. Lost the ball on multiple occasions with casual passes and was defensively unable to tackle the Palace team
Tiemoue Bakayoko: 5.5
The Frenchman's inexperience of playing these intense Premier League games was exposed today. Terrible with his positioning and dumbfounded on the ball, he was ineffective in the midfield. Although he grabbed a goal due to Palace's poor marking, he was otherwise missing from the pitch and gave away the ball far too may time for Conte's liking.
Willian: 4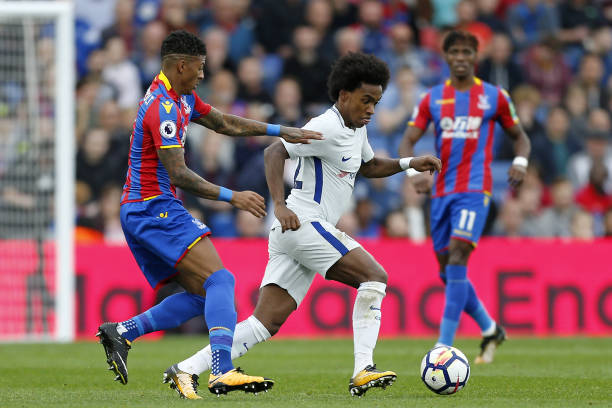 Another subdued display from the Brazilian who seemed to forget the basics of football. Tried fancy runs and passes every time he got the ball instead of releasing teammates early on. On rare occasions when he did play in his team, he looked like the old Willian, fast and dangerous. But those moments were far too few for Chelsea to create a goal.
Eden Hazard: 4.5
A rare bad performance from Hazard where almost everything he did went wrong. He has been known to go missing in games before but at least his passing and vision has always been on point. The Belgian lost too many balls, took on aimless dribbles and was never near the goal to score. The one chance he did get for a tap-in; he failed to connect with Zappacosta's low hard drive across goal.
Michy Batshuayi: 3.5
The Belgian brought in to replace Morata did little to impress Conte. He failed to join in Chelsea's link-up play and could not hold off the ball for his team either. He spent most of his time chasing the Palace defence and lost the ball every time he got it. A little too desperate to get his goal, he was easily pocketed by the Palace defence.
SUBS:
Davide Zappacosta: 5.5
Looked like the only threat for Chelsea down the right flank but failed to capitalize on Van Anholt's poor defending.
Pedro: 5
Brought in for Batshuayi, the Spaniard tried to bring some life into Chelsea's dead game. Got away a couple of shots but that was the extent of his impact on the game.
Charly Musonda: 4.5
Musonda grabbed the headlines before the game with his social media outburst, however, spoiled a brilliant pass from Fabregas to get Chelsea back in the game and make his word count. He tried linking up the play but the Belgian's inexperience was inevitable and he never looked likely to score or set up a goal.