Chelsea managed to pull off a late victory in Watford's trip to the Stamford Bridge as the Hornets seemed strong holding onto a 2-1 lead till the 80th minute. However, Michy Batsuayi's brace including a late goal and Cesar Azpilicueta's goal helped them to a 4-2 victory on the night.
Here are the player ratings:
Thibaut Courtois: 5.5
Could have done much more to save the first goal but left defenceless for the second. Did not have much to save apart from being exposed by his defence from time to time.
Cesar Azpilicueta: 8
Had a better game at right wingback than he did at centre back during the midweek clash. Moved to left-back for the last twenty minutes. Did his job defensively but failed to provide much of an attacking outlet apart from scoring the all-important winner for his team. Well, what more do you need from a player who gives it his all every time he dawns the Blue jersey.
Antonio Rudiger: 6.5
Was never going to have much of a fun outing with Richarlison attacking from his side. Did enough to keep the Brazilian quiet on most occasions although his inexperience was exposed from time to time.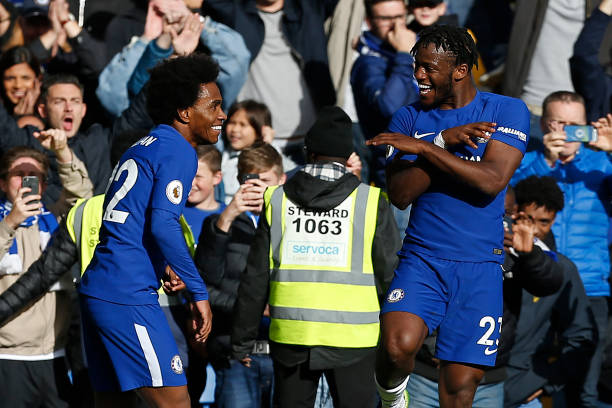 David Luiz: 7.5
Played a strong defensive game in the first half to keep Troy Deeney out of the game and overall looked Chelsea's most comfortable and strong defender on the night.
Gary Cahill: 6.5
Looked better again than he did against Roma. Showed more urgency on the ball and put pressure much higher up the pitch.
Marcos Alonso: 6
Had a quiet game again. Although no complaints can be made about the Spaniard who is clearly tired from playing so many games without any rest. He is after all Chelsea's least rested outfield player with Cesc Fabregas.
Cesc Fabregas: 6.5
A game where he walked in and out. Looked brilliant when putting through forty-fifty yard balls for his teammates but again showed his defensive frailty against a strong physical Premier League side.
Tiemoue Bakayoko: 3
Looks like an amateur on the ball in the defensive half. Hardly ever read the danger and lost the ball regularly to compound his troubles.  The poorest player on the pitch and the Frenchman must get his game together.
Pedro: 7.5
Scored a worldly goal to break the deadlock.  Looked threatening from his couple of long-range efforts and his bundle of energy kept Chelsea going in the final third.
Alvaro Morata: 5.5
A quiet first half for the Spaniard who kept going down, perhaps far too easily for Antonio Conte's liking.  Was taken off rightly by the Italian.
Eden Hazard: 6.5
Excellent sparking bursting runs in the first half, always looking for pockets of spaces. However not his game by far as he was constantly frustrated and failed to get the ball in dangerous areas.
Willian: 6.5
A long-awaited and much-improved performance from the Brazilian. This is what Willian can do on a good day. Smart dribbles and good crossing, he can be an asset for Chelsea if he does not play selfishly.
Davide Zappacosta: 5.5
Came on and almost instantly provided a brilliant cross for Chelsea to score.Played a very little time but did his little work well.
Michy Batshuayi: 8.5
Chelsea's saviour for the night. A brilliant header coming off the shoulder of his defender to draw Chelsea level and then displayed good physical strength to hold off his defender to put the game to bed by scoring another goal.