Alvaro Morata's recent injury has really highlighted the lack in depth in Chelsea's strike force. In such a scenario, the 24-year old Ghanian striker Richmond Boakye has been linked with a move to Chelsea. The Red Star Belgrade forward who promised a lot as a teenager in Juventus has now been linked with the Premier League Champions. Red Star has their goal scoring man rated at £10m and should Chelsea scouts find the Ghanian's game good enough, they will most likely make a move for him.
Boakye has been in tremendous form this season for Red Star Belgrade scoring 10 goals in 16 matches so far. He has the strong build of a centre-forward and can operate on either wing as needed by the team.
Boakye has moved around quite a bit in his career impressing in bits and parts but never living up to his full potential. The then 19-year old signed by Juventus promised much but his lack of consistency resulted in him failing to make a mark with the Bianconeri.
The 24-year old has now found his goal-scoring mojo again at Red Star Belgrade and has scored 25 goals in 35 games since joining the club. Moreover, it is the quality of his goals that has caught the eye of scouts around Europe.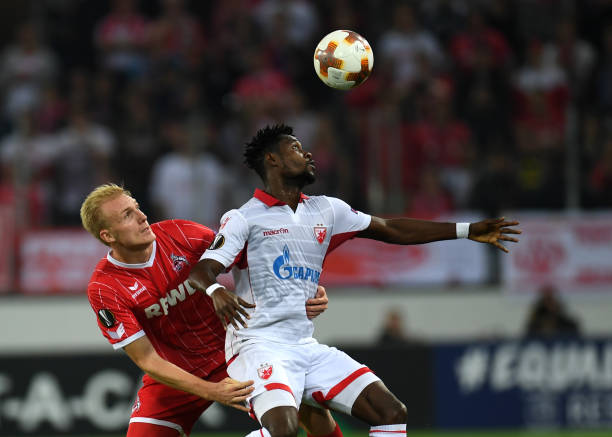 It is reported that Chelsea manager Antonio Conte has requested the Chelsea board to make a move for the Ghanian, possibly in the winter transfer window. The English Champions will keep an eye on the 24-year old when he comes to London for the Europa League tie against Arsenal.
Conte, who started the season with Michy Batshuyai and Loic Remy as his first-team strikers, needed severe reinforcements. His feud with Diego Costa saw the player lose his spot in the Chelsea dressing room and Costa's national teammate Alvaro Morata was brought in for a club record fee to fill in the gap. However, Remy has gone way down the pecking order since Conte's arrival and Batshuayi has failed to impress the Italian boss so far despite scoring 6 goals this season, including a winner at the new Estadio Wanda Metropolitano against Atletico Madrid.
With Morata suffering a hamstring injury in the 35th minute against Manchester City that is likely to keep him out for the month, Conte is desperately short on strikers. He wants to use the January window to bring in some reinforcements. The Italian tactician sees Boakye as an ideal back up to Morata and with the Ghanian also able to operate on wings, Conte might decide to use him alongside Hazard and Morata in a top 3 should Boakye continue his goal-scoring exploits at West London.