It didn't take long for N'Golo Kante to make his mark at Chelsea. The French midfielder has been a vital part of Blues' title-winning campaign last season. In fact, he has been arguably the most important Chelsea player, since joining from Leicester last summer.
However, as Kante continues to impress, big clubs haven't been shy about showing interest. And according to French news outlet, Le Parisien, N'Golo Kante is on the shelves of European giants PSG.
Although it's hard to imagine Kante leaving the Stamford Bridge so early after his arrival last summer, Chelsea might still be interested in bringing in an apt backup/replacement in the midfield position.
Sergi Roberto of FC Barcelona has, long, been a target for Chelsea. The right-back cum midfielder is one of the few players, who stems from the La Masia academy in the Barcelona squad these days. Spanish news outlet, Don Balon, claimed last month, that the Blues are ready to rival Manchester United in the race for the Barcelona midfielder.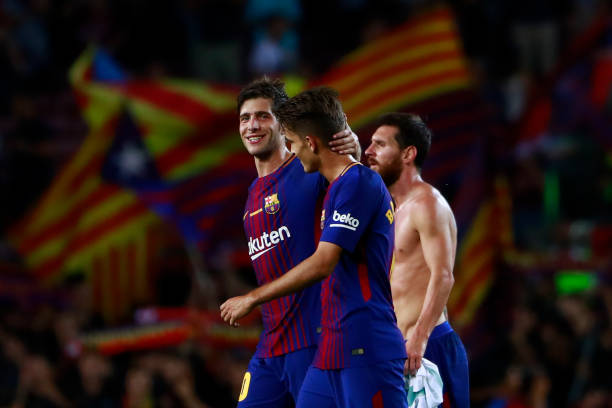 Sergi Roberto could prove to be a stunning signing for the defending champions of England. As Chelsea have already signed Tiemoue Bakayoko, who can plug the gap in the holding midfield position in the future, the Blues can afford to sign a more technically astute midfielder and Sergi Roberto fits the billing like no other.
The 25-year-old is one of the most versatile players in the Barcelona camp. In fact, versatility is the main weapon for the La Masia graduate. Naturally a midfielder, Sergi Roberto can slot in as a right back, a holding midfielder,  an attacking midfielder and even as a right-sided midfielder, which speaks a lot about his versatility.
But his passing is something which sticks out the most. As you would expect from any La Masia graduate, Sergi Roberto is a brilliant passer of the ball. The midfielder acquires a stunning pass completion rate of 93%.
Sergi Roberto is a multi-functional player. As a midfielder, he can work just as seamlessly as a right back. Roberto can act as a real utility man for Antonio Conte. Since the departure of Dani Alves and Xavi, the 25-year-old has embraced any role that was given to him by Barcelona and looked equally impressive in all of those roles.
Head coach Antonio Conte will be delighted to have someone like Sergi Roberto in his team. Not only in the midfielder adept at playing in different positions but also has the technical abilities and the tactical nous to evolve as a real menace for the opposition.