Arsenal's contract dilemma continues as two of their contract rebels in Alexis Sanchez and Mesut Ozil still remain unsettled at the club. While Alexis Sanchez has made it clear that he wants to leave Emirates as soon as possible, the future of Mesut Ozil still remains in doubt.
The German International hasn't signed a contract extension with the club as of yet. Reports suggest that both FC Barcelona and Manchester United are keen on acquiring the services of the talented playmaker. While it's hard to imagine Ozil moving to Premier League rivals Manchester United just after quitting Arsenal, a move to Liga giants is definitely a possibility for the 28-year-old.
Barcelona are currently on the lookout for a creative playmaker. The Catalans were repeatedly rebuffed in their attempts to sign Liverpool star Philipe Coutinho this summer. While they haven't yet given up the chase for Coutinho, Mesut Ozil could prove to be a cheaper yet productive alternative to the Brazilian midfielder.
Iniesta has been an important source of creativity for the Spanish giants, even at the ripe old age of 33. And there doesn't seem to be anyone better than him at Barcelona right now, which can be a huge concern for Ernesto Valverde.
Truth be told, Barcelona lack proper alternatives to Andres Iniesta at the moment. With players like Andre Gomes and Denis Suarez yet to step up their game to the next level, the Catalan giants do require a new face among their ranks. And Mesut Ozil fits the bill like no other!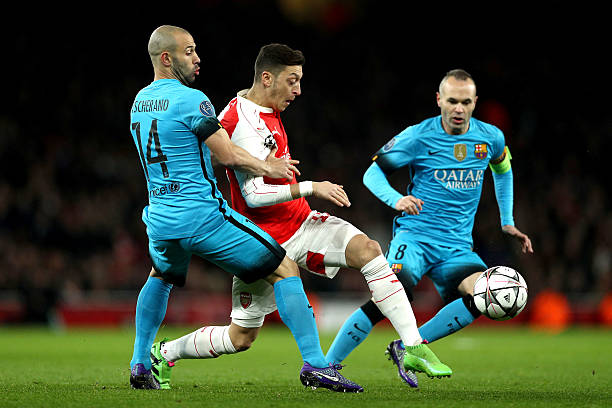 The German International's composure and vision coupled with his excellent passing range fit Barcelona's system quite well. Players like Lionel Messi, Luis Suarez, and Ousmane Dembele are sure to thrive under Ozil's creative subtlety in the final third.
A midfield trio of Ivan Rakitic, Mesut Ozil, and Sergio Busquets can easily provide competition for Real Madrid's amazing midfield pack of Kroos, Modric, and Casemiro.
Furthermore, if the Catalans can acquire his services in the January transfer window, Ozil can be eligible to play in the Champions League since Arsenal haven't qualified for the prestigious competition this season.
Barcelona are flying high at the moment and Mesut Ozil's arrival will further enhance their claim to the Champions League this season as well as strengthen the midfield options for coach Ernesto Valverde.
The 28-year-old is truly a natural heir to Iniesta's position in the Barcelona midfield and securing his services should be of paramount importance to the Blue and Maroons. However, the only doubt which will remain is if Ozil will want to play for Real Madrid's rival?