Reports from Spanish news outlet, Don Balon, claim that FC Barcelona are already readying themselves for the departure of Jordi Alba. Reports say that Barcelona head coach Ernesto Valverde has no trust in the talented Spanish fullback, and is looking for possible replacements in the market.
Jordi Alba hasn't performed to the highest level this season and is struggling with form throughout the past few seasons. His current contract with Barcelona runs until 2020, meaning clubs will have to spend a fortune to get their hands on this exceptionally talented Spanish left-back. However, a lot of Premier League will gladly give that up, in order to acquire his services, and in this article, we will take a look at three Premier League that desperately needs the services of Jordi Alba sooner rather than later.
Liverpool:
Liverpool fans have been pleading for an upgrade to Alberto Moreno for a long time now. This summer, the Reds have signed Andrew Robertson, but he looks more like a long-term signing rather than an instant fix for the left back position.
The defence has always been an issue for Jurgen Klopp's men and current left-back Alberto Moreno has been criticized a lot, in the past, for his awful positioning and lack of defensive output. Jordi Alba could prove to be an apt replacement for his fellow Spanish compatriot. Not only will he be an instant fix to the left back position, but the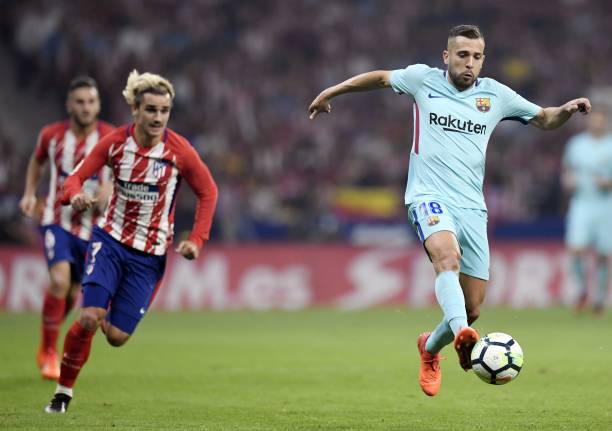 Jordi Alba could prove to be an apt replacement for his fellow Spanish compatriot. Not only will he be an instant fix to the left back position, but the 28-year-old, can also significantly strengthen the defence of Liverpool.
Chelsea:
Ironically, Barcelona have actually identified Chelsea left-back Marcos Alonso as the successor of Jordi Alba. Although his departure from the Stamford Bridge won't come as a surprise, as head coach Antonio Conte, was already looking for alternatives in the market. Juventus' fullback Alex Sandro was one of the names linked with the Blues.
However, Jordi Alba could prove to be a cheaper yet effective alternative to Alex Sandro. He has the necessary speed and technical abilities to thrive under the tutelage of Antonio Conte. It will be even more impressive if the Blues can somehow strike a swap+cash deal for selling their prized defensive asset in Marcos Alonso to Barcelona next season.
Manchester United:
Manchester United are in dire need of a quality full-back. For a few years running, the Red Devils have struggled to find a proper candidate for the left back position. Luke Shaw has struggled with injuries ever since his arrival from the St. Marys, while Matteo Darmian las terribly failed to make a big impact at the Old Trafford.
Daley Blind has been the only real standout performer in the aforementioned position, but he too isn't someone who can tellingly make a difference in high-end encounters. Therefore, Jordi Alba makes a perfect sense for the Red Devils.
The Spaniard can help United, cover up the defensive gap on the left side. Furthermore, he has all the necessary qualities to prosper under Jose Mourinho.