With Alexis Sanchez's contract running out at the end of the season, Arsene Wenger is on the hunt to replace their prolific man. With PSG also keen on the Chilean's signature, a swap deal for Julian Draxler could be on the cards. The German playmaker is down the pecking order in the French capital since the arrival of Neymar, turning surplus to Unai Emery's ammunition requirements up front. This is a deal that could well be on the cards when the transfer window opens in January.
The German international boasts pace and precision on the ball and shows great trickery leaving many a defender for dead. Draxler can play on either wing while also being able to play the number 10 role with ease.
Despite having made just four starts in the Ligue 1 this season, Draxler has still managed to show his class, scoring a sumptuous volley and setting up Kyllian Mbappe in a 6-2 win against Bordeaux. Being the 4th youngest debutant in the Bundesliga, he has grown in stature every year.
With regard to Arsenal and the question of him filling Sanchez's boots, it certainly is a downgrade. But what could excite the Arsenal fans is the partnership that he could muster with Lacazette up front. He could provide the right service that Lacazette has been missing since his arrival from Lyon.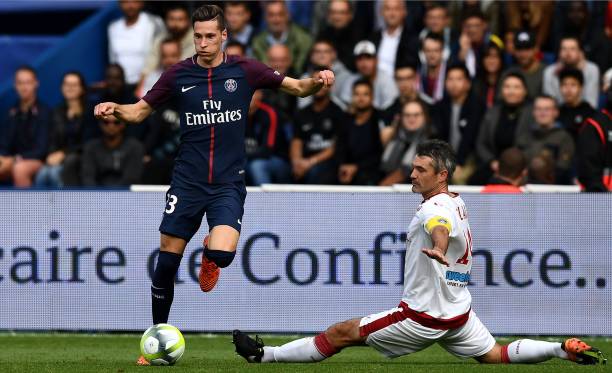 Whilst speaking of partnerships, the pairing with his international colleague could prove to be an interesting one in midfield. Arsenal's counter-attacks could well seem driven with pace with the injection of Draxler despite the loss of Sanchez.
Given Arsenal's style of playing short and intricate passes in small spaces, Draxler could well sparkle under such situations that would see his dribbling and quick link up play come to life. His quickness could well compliment the pace and speed at which the Premier League is played.
Wenger now faces a battle against time to find a suitable replacement. Given that Draxler is just 24 with vast experience, he could possibly be the final piece in the jigsaw. Draxler might fit well in Arsene Wenger's system. But what he doesn't bring is the ability to hunt and press opponents down. It is one of the attributes that highlights Sanchez's game. He just does not give the opponent's defenders a moment's peace, being a constant pest.
This is an attribute identified as one of Draxler's weaknesses. If he can cultivate and add this ingredient into his game, he could prove to be an important asset for the Gunners. Can he be the man to change Arsenal's fortunes?