Marco Reus has been one of the most unfortunate footballers in the past decade. The German International, playing for Borussia Dortmund, has suffered several long-term injuries, which kept him out of important competitions like 2014 FIFA World Cup and 2016 European Championships. Currently, the attacker is out injured due to a ruptured cruciate ligament.
Initially expected to return in January, Reus postponed his return to March 2018 in order to get fully fit ahead of the World Cup next year. Furthermore, the German International has also opened up about his future in an interview with GQ magazine. Inter Milan is reportedly keen to sign the Borussia Dortmund star next summer, per transfermarketweb.
Arsenal have also been interested in the services of the star forward for many years now. And reports suggest that the Gunners are set to continue tracking the situation of Marco Reus. But will it be a good move from Arsene Wenger?
Arsenal will be looking to cash in on their star players in Mesut Ozil and Alexis Sanchez this January. Both the attackers have been reluctant to sign a new contract extension, with the Chilean particularly interested in leaving the Emirates as soon as possible.
Considering how important Alexis Sanchez has been to Arsenal over the years, the Gunners will definitely look to invest someone who can make a quick impact in the offensive department.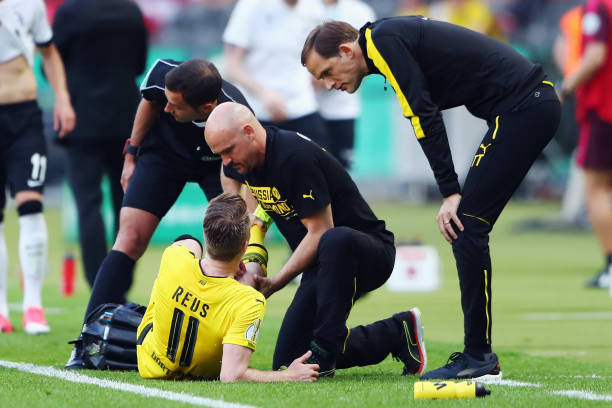 While the Londoners have a decent amount of quality to fill in Ozil's shoes, the lack of quality wingers can be a huge problem for the English giants. And therefore, Marco Reus fits the bill like no other.
The German is known for his directness and flair in the attacking third. Reus' pace and willingness to get in behind the defence are two vital aspects of his game. Unlike Sanchez, Reus prefers to use his cleverness in the offensive third in order to get past opposition.
Furthermore, Marco Reus knows how to play in a cohesive unit and has the leadership qualities to go with it as well. His composure and adaptability in the final third make him a real joy to watch.
However, the only significant drawback is his injury-prone nature. His frequent injuries surely won't help the Gunners. And without Reus, Arsenal may not be able to sustain their offensive superiority.
In addition, the player is fairly loyal to his hometown club Borussia Dortmund and is very unlikely to leave before the end of his contract in 2019. So whether or not will Arsene Wenger will want to splash the cash on a 30-year-old is fairly doubted.
The Gunners should instead look for a younger and less injury prone alternatives in the market.